The New National Theatre Tokyo The Pit Opera #2

Gioachino Rossini: L'Inganno Felice (The Happy Stratagem)
Opera in 1 Act (Sung in Italian with Japanese Supertitles)
THE PIT
---
Stage Director
: Jun Aguni
Artistic Director
: Kiyoshi Igarashi
Libretto by
: Giuseppe Foppa
Music by
: Gioachino Rossini
Conductor
: Yutaka Hoshide
Scenery
: Keiko Shiraishi
Costume Designer
: Emi Masuda
Lighting Designer
: Toshiyuki Kasahara
Stage Manager
: Yoshihiro Tanaka
Assistant Stage Director
: Hidenori Hisagaki
Orchestra
: New National Theatre, Tokyo The Pit Opera Ensemble
---
<CAST>

September, 2000

Thursday 7, Saturday 9

Friday 8, Sunday 10
Isabella
Maki Mori
X
Reiko Fukuda
X
Duca Bertrando
Yojiro Oyama
X
Satoshi Chubachi
X
Ormondo
Yoshiyuki Shikano
X
Tetsuya Uno
X
Tarabotto
Masumi Kubota
X
Kazunori Kubo
X
Batone
Tooru Kanomata
X
Hiroyuki Narita
X
---
<PERFORMANCES>

| | | | | |
| --- | --- | --- | --- | --- |
| September, 2000 | Thursday 7 | Friday 8 | Saturday 9 | Sunday 10 |
| 3:00pm | | | X | X |
| 7:00pm | X | X | | |
---
<TICKET PRICES>
All Seats Reserved: ¥4,200
To order tickets, please call +81-3-5352-9999 (10:00am-6:00pm)
Seat Z(¥1,500) is sold only on the performance day at the Box Office and a part of Ticket Pia Offices.
---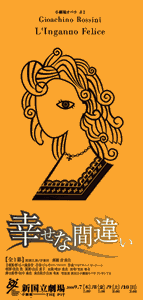 Explanatory note
Gioachino A. Rossini (1792-1868) was prolific, producing more than 30 operas during the first half of his 76-year life, and L'Inganno Felice is one of his early operatic works (first performed in Venice in 1812). In it, he portrays rivalry in courtship over suspicion of infidelity thrown on a princess. It is performed with his characteristic lively music and comic touch in a simple structure consisting of an overture and one act, making it possible for everyone to enjoy this opera. Look forward to a rapid and pleasant performance that will be presented in the close space of the Pit by a cast of young and talented singers.

Synopsis
Ormondo, who makes advances to Isabella, wife of a duke, spreads a groundless rumor about her love affair, and she is driven away to the sea in a boat due to a misunderstanding on the part of her husband, Duke Bertrando. Fortunately Isabella drifts ashore. She is rescued by Tarabotto, who works at a mine, and she decides to live with him under the pretext that she is his niece. Several years pass and Tarabotto, who by chance comes to know that Isabella is the wife of Duke Bertrando, works out a plan so that she can be reunited with her former husband when the duke comes to the mine for inspection. Ormondo, who incorrigibly tries to satisfy his desire, appears again attempting to carry out an evil plan, but fails. Bertrando and Isabella become happily reconciled.