TOSCA
Opera in 3 Acts (Sung in Italian with Japanese Supertitles)

OPERA HOUSE
---
<STAFF>

| | |
| --- | --- |
| Author | :Victorien Sardou |
| Libretto by | :Giuseppe Giacosa / Luigi Illica |
| Music by | :Giacomo Puccini |
| Artistic Director | :Kiyoshi Igarashi |
| Conductor | :Marcello Viotti |
| Stage Director | :Antonello Madau Diaz |
| Scenery | :Naoji Kawaguchi |
| Lighting Designer | :Yasuo Okuhata |
| Stage Manager | :Takahiro Sugahara |
| Chorus Master | :Mitsugi Oikawa |
| Children's Chorus Master | :Yoshiko Takayama |
| Assistant Conductors | :Tetsuya Kawahara / Masahiro Ozaki / Keiji Sudo |
| Assistant Stage Directors | :Michiko Taguchi / Yasuko Sawada |
| | |
| Chorus | :New National Theatre Chorus |
| Children's Chorus | :Tama Family Singers |
| Orchestra Master | :Tokyo Philharmonic Orchestra |
| Presented by | :New National Theatre, Tokyo |
---
<CAST>

September, 2000
Thursday
21
Saturday
23
Sunday
24
Tuesday
26
Wednesday
27
Friday
28
Saturday
30
Tosca
Sylvie Valayre
X
X
X
X
Yasuko Hayashi
X
X
X
Cavaradossi
Alberto Cupido
X
X
X
X
Shigehiro Sano
X
X
X
Scarpia
Juan Pons
X
X
X
X
Tasuku Naono
X
X
X
Angelotti
Katsuji Miura
X
X
X
X
Akira Hasegawa
X
X
X
Spoletta
Ken Matsuura
X
X
X
X
Kazunori Ikemoto
X
X
X
Sciarrone
Makoto Ohkubo
X
X
X
X
Shigeki Miya
X
X
X
Il Sagrestano
Sachio Yamada
X
X
X
X
Takashi Sinpo
X
X
X
Carceriere
Naoki Ikeda
X
X
X
X
Yasushi Nakamura
X
X
X
Un Pastore
Tomoko Ohmori
X
X
X
X
Kaori Hirai
X
X
X
---
<PERFORMANCES>

September, 2000
Thursday
21
Saturday
23
Sunday
24
Tuesday
26
Wednesday
27
Friday
29
Saturday
30
3:00pm
X
X
X
6:30pm
X
X
X
X
---
<TICKET PRICES>

| | | | | | | |
| --- | --- | --- | --- | --- | --- | --- |
| Type | Seat S | Seat A | Seat B | Seat C | Seat D | Seat E |
| Price | ¥23,100 | ¥18,900 | ¥14,700 | ¥11,550 | ¥7,350 | ¥4,200 |

To order tickets, please call +81-3-5352-9999 (10:00am-6:00pm)
Seat Z(¥1,500) is sold only on the performance day at the Box Office and a part of Ticket Pia Offices.
---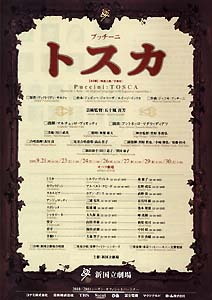 Enjoy the real charm of opera through one of the greatest operatic masterpieces as NNTT's new season opens.
Tosca is the most dramatic of all the operas by Giacomo Puccini. A string of moving arias represent, with a sorrowful yet beautiful touch, the feelings of the hero and heroine who are distressed by their merciless fates. Particularly, "Vissi d'arte" ("Love and music"), sung by the female lead Tosca, and "E lucevan le stelle" ("The stars were shining"), the farewell song by Cavaradossi, are well known as songs that no one can listen to with a dry eye.

Synopsis
Rome, June 1800. The painter Cavaradossi is arrested on the charge of sheltering Angelotti, who has escaped from jail, and undergoes cruel torture on the orders of Scarpia, chief of police. Cavaradossi stubbornly refuses to confess and is sentenced to death, but Scarpia, who makes advances to Tosca, Cavaradossi's love, proposes that if she accepts his demands, he will save her lover's life. Pretending to have accepted Scarpia's demands, Tosca obtains a permit for Cavaradossi to leave the country and then stabs Scarpia to death. Meanwhile, Cavaradossi is told that a mock execution would be conducted and so stands calmly in front of a firing squad. Tosca sees him fall down in a convincing manner as previously planned and after confirming that everyone has left the execution ground, she goes near him. She is shocked, however, to find that he is dead. Driven to the corner with pursuers close at hand, Tosca throws
herself from the parapet of the castle.