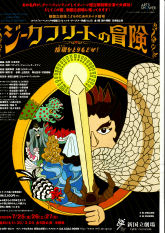 Synopsis

The Valkyries, informed by the sound of a siren that Fafner is in battle, rush to the site of fighting. Brünnhilde faces Fafner with Nothung, her father Wotan's sword, but the sword is broken. Wotan then appears and drives away Fafner. Infuriated at the sight of the sword that has been broken into two pieces, however, he sentences Brünnhilde to a long sleep as punishment. Nothung is a sacred sword that shows its power only in the hands of a dauntless hero. Siegfried, who is traveling aimlessly, is shown a picture of sleeping Brünnhilde by Waldvogel and soon falls in love with her. He makes up his mind to wake her up. And together with a small bird, he heads for the Rhine to obtain the mysterious ring that is possessed by the Rhinemaidens with the aim of dedicating it to Brünnhilde. The ring has been stolen by Fafner, however. Wotan appears in front of the disheartened Siegfried. The ruler of the gods regrets that he has inflicted too harsh a penalty on his daughter. The bird introduces the two to each other. Wotan recognizes immediately that Siegfried is no ordinary young man, and handing the fragments of his sword to Siegfried, he secretly expects something...


Brünnhilde
One of nine Valkyries, daughters of Erda and Wotan. She has Wotan's important sword Nothung shattered and is put to long sleep as punishment.

Siegfried
A brave young man who wanders various countries. Found by Wotan when he is seeking the Ring, he re-tempers Nothung and leaves for an adventure.

Wotan
Profoundly intelligent father of Brünnhilde. He puts Brünnhilde, who broke her promise, to sleep but firmly believes that Siegfried is just the hero who will awaken his daughter.

Waldvogel
Mysterious creature which brings Siegfried and Brünnhilde together and invites them to adventure.

Fafner
Rough villain. He takes away the Rhine gold and uses the Tarnhelm to transform himself into a huge dragon.

Die drei Rheintöchter
Water nymphs living at the bottom of the Rhine. They protect the Rhine gold.

Drei Walküren
Sisters of Brünnhilde. Their mission is to work for Wotan.