The New National Theatre, Tokyo has promoted international communication among theatre professionals since Kuriyama Tamiya became artistic director. One of the mainstays of this effort is the commissioning and performance of new works by overseas playwrights. The third installment of this project features a work by Shan Khan, a British subject of Pakistani descent residing in London. This showcase performance, directed by Mr. Kuriyama himself, is a world premiere. Why does the human race continue to make war? What are borders, religion, and ethnicity? The three characters in this play are family members that hold different beliefs and views, and they struggle to find a way to live together in full awareness of their differences. Addressing the difficult topics of religion and ethnicity, this ambitious play uses the intimate perspective of the family to depict our world today. An up-and-coming playwright, Shan Khan leapt onto the world scene in 2001 with the production of his debut work, Office, at the Edinburgh International Festival, and has kept busy ever since in a variety of fields, also winning critical acclaim as a writer of popular television dramas and a writer and director of short films. Popular and talented Japanese actors and actresses star in this play: Nakajima Tomoko who has given outstanding performances in headline-grabbing plays in addition to television and film, Kitamura Yukiya who is noted for his skill in dramas of all genres and periods, and Ginpuncho who is the theatre company's big draw and has a key presence as one of Japan's best-known actresses today in film and television. We are sure you will enjoy this sensitive and compelling family drama with its fine cast and staff.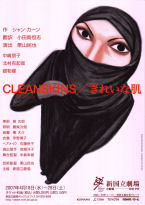 <Synopsis>
The play unfolds in a room in a public housing unit in a small town in England where a woman named Dottie lives with her son, Sonny. Heather, Dottie's daughter who disappeared after becoming a drug addict, unexpectedly returns home and reveals that she has become a Muslim. Sonny participates in anti-Islam demonstrations, and he harshly presses his sister about why she converted. Heather stares at her younger brother and speaks quietly, responding to him with few words. Gradually their conversation turns to the subject of their father who abandoned them. Hearing this discussion, Dottie becomes emotional in front of her children. In the end, the real reason why their father left becomes clear.
Message from Shan Khan
In answer to your question - "What do I feel about embarking on this project now ?" I can say this -In the first instance, I was gently surprised but deeply honoured to have been asked to write a play for the New National Theatre Tokyo. For my own part, I am very happy that Mr Kuriyama and Mr Nakajima and everyone at the New National Theatre was able to recognise the universal themes in my work. I think it says a lot for Japanese. Theatre, that they are actually and actively seeking knowledge and understanding of events and cultures that may be beyond their own physical borders, but certainly not beyond affecting them, in a global sense. Even so, I did still wonder what the New National Theatre Tokyo would want with a bald-Asian, with a Glaswegian accent, living in London. But then I guess I answered my own question - it seems that the universal themes we are both obviously drawn to is the ever evolving and expanding Urban Multicultural / Multi-Faith Society. When thinking about Japanese culture, in relation to writing this project, I was a little embarrassed to admit to myself that I was not sure which religion, if any, was prevalent in Modern Japan. Likewise when I asked many of my Western friends what they supposed the main religion of Japan was, they too were a tad baffled - most offering Christian, which I do not believe is the case. Even a look on the internet does not fully answer the question - many sites offering that religion is not really practised in Japan ! Others suggesting that where there is religion, it is Shintoism and Buddhism that are most prevalent. For me, being brought up a 2nd-Generation Muslim in Britain, religion has always been a big part of my life - whether rebelling against it, wrestling with it, or embracing it. Religion and Family - these were always the two that caused sleepless nights ! But also growing up in Britain, attending mainly 'Western' schools and having mainly 'Western' friends and leading a mainly 'Western' social life, it has become apparent to anyone that cares to admit it - religion has no place in Britain anymore. Well actually let me correct myself - the indigenous religion of Britain, Christianity - has no place left to exist. Any Church that has not been transformed into a pub, restaurant, or designer-apartment, is barely clinging to it's congregation. The People are becoming starved of Spirituality. This is a pattern repeating itself all through the 'Developed World'. Either religion is fading completely or at the other extreme, it is becoming more fundamental, in order to survive. These are universal themes, that will resonate just as loudly in London, as they would in Tokyo. Afterall, the world is getting smaller everyday - so we might as well get to know each other properly. I am very excited and feel deeply privileged to be able to create a new piece of work for the New National Theatre Tokyo. I very much look forward to coming to Japan, seeing the Theatre first-hand, meeting the people and experiencing a great new culture for the first time, but certainly not the last time. God willing.