NEW NATIONAL THEATRE BALLET, TOKYO
2005/2006 SEASON
Roland Petit's La Chauve-souris
OPERA HOUSE
---
STAFF

Artistic Director
:
Maki Asami
Choreography
:
Roland Petit
Music
:
Johann Strauss Fils
Arrangements
:
Douglas Gamley
Répétiteur and Assistant
to Choreographer
:
Luigi Bonino
Scenery
:
Jean-Michel Wilmotte
Costumes
:
Luisa Spinatelli
Lighting
:
Marion Hewlett / Patrice Lechevallier
Assistant to Choreographer
for the scenery and llighting
:
Jean-Michel Désiré
Stage Manager
:
Morioka Hajime
Conductor
:
David Garforth
Orchestra
:
Tokyo Philharmonic Orchestra
---
CAST
| | | |
| --- | --- | --- |
| Bella | : | Alessandra Ferri (19,20,21) |
| | : | Kusakari Tamiyo (26) |
| | : | Matada Kumiko (27) |
| | : | Yukawa Mamiko (28) |
| | | |
| Johann | : | Robert Tewsley (19,20,21) |
| | : | Yamamoto Ryuji (26,28) |
| | : | Morita Kentaro (27) |
| | | |
| Ulrich | : | Kojima Naoya* (19,20,21,26) |
| | : | Yahata Akimitsu* (27,28) |
* Luigi Bonino, who originally was to perform the role of Ulrich is unable to perform.
Atsugi Mia / Uchitomi Yoko / Endo Mutsuko / Kawamura Maki / Saito Miho
Takahashi Ari / Terashima Hiromi / Terashima Mayumi / Nishikawa Takako
Nishiyama Yuko / Motojima Miwa / Yasui Yukari
Ichikawa Toru / Emoto Taku / Okuda Shinya / Kaikawa Tetsuo / Chen Xiujie
Tomikawa Yuki / Maylen Tleubaev / Nakamura Makoto / Grigory Barinov
and the artists of the New National Theatre Ballet, Tokyo
---
PERFORMANCES

May
2006
19
20
21
26
27
28
Fri
Sat
Sun
Fri
Sat
Sun
3:00
X
X
X
X
7:00
X
X

Doors will open 45 minutes before the opening of the performance.
Approximate running time: 2 hours
---
ADVANCE TICKETS

Available from Sunday 26 March, 2006 at 10:00am.
To order tickets, please call +81-3-5352-9999 (10:00am-6:00pm).
Internet ticket reservation available through the following Websites.(Japanese only)
http://pia.jp/t
http://eee.eplus.co.jp/
---
TICKET PRICES (with tax)
| | | | | | | | | | |
| --- | --- | --- | --- | --- | --- | --- | --- | --- | --- |
| Seat | SS | S | A | B | C | D | E | F | Z |
| Price(yen) | 10,500 | 9,240 | 7,980 | 6,930 | 5,880 | 4,830 | 3,780 | 3,150 | 1,500 |
*Seat Z(¥1,500):
Sold to students only at some Ticket Pia outlets on the day before the performance. Any tickets not sold by the performance date will be released to the general public at the NNTT Box Office and some Ticket Pia outlets. One ticket per person. No phone reservations. Students must bring a valid student ID.
*Same day student tickets
(
50% off, except Seat F and Seat Z
)
:
Sold at the NNTT Box Office and some Ticket Pia outlets on the performance date. One ticket per person. No phone reservations. Students must bring a valid student ID.
---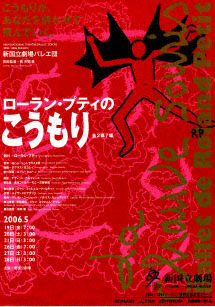 Master of modern ballet Roland Petit's charming La Chauve-souris (The Bat) returns to the New National Theatre! And if the word "bat" makes you think of that supreme masterpiece of Viennese operettas, Die Fledermaus, with its effervescent overture bubbling like fine champagne-you would be correct. La Chauve-souris is a free reinterpretation of Die Fledermaus as a cheerful ballet spectacle infused with stylish esprit for which Petit is known. There is delightful dancing throughout, to the brilliant music of Johann Strauss II, including a nightclub scene with dancing waiters and a cancan line, and of course the finale features a gorgeous Viennese waltz. It is a masterpiece that gives Petit-a wizard of stagecraft well-versed in all forms of entertainment, including musicals and revues in addition to ballet-a chance to give it everything he's got. When La Chauve-souris debuted at the New National Theatre in 2002, the audiences were immediately enthralled by Petit's sorcery. So please, enjoy this intoxicating experience once again. It is a lovely ballet that will have you in an elegantly happy mood from the instant the curtain goes up.
Synopsis
Every night, Johann puts on a bat's wings and flies off.Bella, troubled by her husband's pleasure-seeking at night, consults with her friend Ulrich and starts a strategy of disguising herself as a mysterious beauty to seduce her husband.One night, Johann is captivated by her at a cafe and chases her without knowing that she is his own wife.He is soon involved a fracas and arrested.What will happen to the married couple's love?
| | | |
| --- | --- | --- |
| | | |
| Act 2 Bella:Alessandra Ferri | | Act 1 |
| | | | |
| --- | --- | --- | --- |
| | | | |
| Alessandra Ferri | Kusakari Tamiyo | Matada Kumiko | Yukawa Mamiko |
| | | |
| --- | --- | --- |
| | | |
| Robert Tewsley | Yamamoto Ryuji | Morita Kentaro |
| | |
| --- | --- |
| | |
| Kojima Naoya | Yahata Akimitsu |