2005/2006 SEASON PLAY
Series "Where Are We Going?" Vol.2
MATERIAL MAMA
THE PIT
---
STAFF

| | | |
| --- | --- | --- |
| Written & Directed by | : | Iwamatsu Ryo |
| | | |
| Set Designer | : | Ikeda Tomoyuki |
| Lighting Designer | : | Sawada Yuji |
| Sound Designer | : | Fujita Akame |
| Costume Designer | : | Katsumata Junko |
| Stage Manager | : | Fujisaki Yu |
| | | |
| Artistic Director | : | Kuriyama Tamiya |
| Produced by | : | New National Theatre, Tokyo |
---
CAST

Nakamura Toru, Ito Ayumi, Hayafune Satoshi, Iwamatsu Ryo, Kurano Akiko
---
PERFORMANCES

April / May
2006
19
20
21
22
23
25
26
27
28
29
30
2
3
4
Wed
Thu
Fri
Sat
Sun
Tue
Wed
Thu
Fri
Sat
Sun
Tue
Wed
Thu
1:00
X
X
X
X
X
X
2:00
X
X
X
6:00
X
X
X
7:00
X
X
X
X
X
X
X
X

Doors will open 30minutes before the opening of the performance.
---
ADVANCE TICKETS

Available from Saturday 25 February, 2006 at 10:00am.
To order tickets, please call +81-3-5352-9999 (10:00am-6:00pm).
Internet ticket reservation available through the following Websites.(Japanese only)
http://pia.jp/t
http://eee.eplus.co.jp/
---
TICKET PRICES (with tax)
All Seat Reserved ¥5,250
*Seat Z(¥1,500):
Sold at the NNTT Box Office and some Ticket Pia outlets on the performance date. One ticket per person. No phone reservations.
*Same day student tickets (50% off, except Seat Z ):
Sold at the NNTT Box Office and some Ticket Pia outlets on the performance date. One ticket per person. No phone reservations. Students must bring a valid student ID.
---
A car becomes the focal point of a strange network of human relationships. . .
Iwamatsu Ryo's unusual piece captures a slice of contemporary life.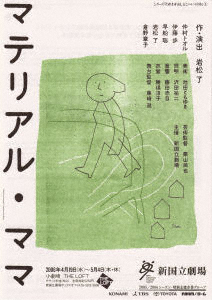 The second installment in the "Where are we going?" series, whose overall theme is "Memories of the Future," is a newly-completed play by the multitalented playwright, director, and actor Iwamatsu Ryo, known for his penetrating insight and unique perspective on contemporary society. While our material culture advances with dizzying speed, giving our daily lives all the modern conveniences, human relations grow ever more attenuated and even the family unit is destabilized. Using the odd premise of a woman who keeps a car in her house, the human relations that precede material culture are exposed. The cast includes Nakamura Toru, active in film and television as well as some much-talked-about theater productions; Kurano Akiko, who demonstrates increasing maturity as a performer; and Ito Ayumi, who makes her stage debut in this production. When you add the individualistic acting styles of Iwamatsu Ryo and Hayafune Satoshi to this mix, things get even more interesting... Experience drama presented in an intimate environment by a compelling group of actors.
Synopsis
A woman in late middle age, living in a house in the suburbs. The biggest thing on her agenda: taking care of the car left behind by her only daughter, who has gone to work in the city. She is frequently visited by a car salesman, who eventually forgets about trying to sell her a new car and begins to help take care of hers; the salesman's fiance shows up on a mission to win him back; and the old man next door, who has been spying on all of this, suddenly comes forth with a bizarre revelation about the woman's past......
---
| | | | | |
| --- | --- | --- | --- | --- |
| | | | | |
| Nakamura Toru | Ito Ayumi | Hayafune Satoshi | Iwamatsu Ryo | Kurano Akiko |