2005/2006 SEASON PLAY
Series "Where Are We Going?" Vol.1
KAERU
THE PIT
---
STAFF

| | | |
| --- | --- | --- |
| Written by | : | Guo Shixing |
| Translated by | : | Hishinuma Yoshiaki |
| Directed by | : | Uyama Hitoshi |
| | | |
| Set & Costume Designer | : | Kato Chika |
| Lighting Designer | : | Ogasawara Jun |
| Sound Designer | : | Ueda Kosei |
| Assistant Director | : | E-RUN |
| Stage Manager | : | Hojo Takashi |
| | | |
| Artistic Director | : | Kuriyama Tamiya |
| Produced by | : | New National Theatre, Tokyo |
---
CAST

Chiba Tetsuya, Arizono Yoshiki, Miyamoto Yuko, Imai Tomohiko
---
PERFORMANCES

April
2006
1
2
4
5
6
7
8
9
10
11
12
13
Sat
Sun
Tue
Wed
Thu
Fri
Sat
Sun
Mon
Tue
Wed
Thu
1:00
X
X
X
X
X
X
7:00
X
X
X
X
X
X

Doors will open 30minutes before the opening of the performance.
---
ADVANCE TICKETS

Available from Saturday 25 February, 2006 at 10:00am.
To order tickets, please call +81-3-5352-9999 (10:00am-6:00pm).
Internet ticket reservation available through the following Websites.(Japanese only)
http://pia.jp/t
http://eee.eplus.co.jp/
---
TICKET PRICES (with tax)
| Seat | A | B |
| --- | --- | --- |
| Price(yen) | 5,250 | 3,150 |
*Seat Z(¥1,500):
Sold at the NNTT Box Office and some Ticket Pia outlets on the performance date. One ticket per person. No phone reservations.
*Same day student tickets (50% off, except Seat Z ):
Sold at the NNTT Box Office and some Ticket Pia outlets on the performance date. One ticket per person. No phone reservations. Students must bring a valid student ID.
---
The human race, caught in a cycle of production and consumption. Is it possible to bring back the simple and beautiful world of Issa?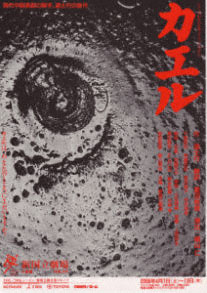 The series "Where are we going?" addresses the question of what we, in this rapidly changing world of the present, should leave as a legacy for the future. In the first installment, we present a new work by Guo Shixing, a socially-oriented playwright and leader in the world of contemporary Chinese theater, whose refreshing debut on the Japanese theatrical scene was a production of his play Chiren by the New National Theatre in 1999. The title, Kaeru (Frog), was inspired by the haiku of Kobayashi Issa, whose simple yet beautiful worldview captured Guo's imagination. In this world in which economics reigns supreme, the human race is fixated on consumption, and in danger of exhausting even the resources that should be left for future generations. The playwright uses Issa's haiku to ring an alarm for the contemporary world, warning of the need to return to a spirit of simplicity, hard work, frugality, and the love of nature.
The stage is set in a barbershop threatened by a flood. The time could be now, or the future. The barber and his customer are having a conversation. A mysterious woman sits nearby. They are pondering the question, "What is the most up-to-date hairstyle?" But their conversation keeps turning to natural and man-made disasters, and other phenomena of a steadily deteriorating world. Then a traveler appears, asking for a haircut....
Director Uyama Hitoshi is well aware of the gaps in perception between Japan and China, and shows a determination to make that an amusing part of the production. Expect to see a strong and individualistic cast in a drama that questions the future of the human race from an Asian perspective.
---
| | | | |
| --- | --- | --- | --- |
| | | | |
| Chiba Tetsuya | Arizono Yoshiki | Miyamoto Yuko | Imai Tomohiko |