NEW NATIONAL THEATRE BALLET, TOKYO
2005/2006 SEASON
Nacho Duato Programme
PLAYHOUSE
---
STAFF

Artistic Director : Maki Asami

DUENDE
Choreography : Nacho Duato
Music : Claude Debussy

JARDI TANCAT
Choreography & Designs : Nacho Duato
Music : Maria del Mar Bonet

POR VOS MUERO
Choreography & Designs : Nacho Duato
Music : Old Spanish Music -XV and XVI centuries-
Text : Garcilaso de la Vega
Voice : Miguel Bosé




Staging
:
Kim McCarthy
Scenery
:
Walter Nobbe
Costumes
:
Ismael Aznar, Susan Unger
Light Design
:
Nicolás Fischtel
Stage Manager
:
Morioka Hajime
Produced by
:
New National Theatre, Tokyo
---
CAST
Atsugi Mia / Endo Mutsuko / Kusumoto Ikuko / Sakai Hana / Takahashi Ari /
Terashima Hiromi / Terashima Mayuni / Nishikawa Takako / Nishiyama Yuko /
Maruo Takako / Motojima Miwa / Yukawa Mamiko
Iguchi Hiroyuki / Ichikawa Toru / Kaikawa Tetsuo / Suematsu Daisuke /
Chen Xiujie / Tomikawa Yuki / Nakamura Makoto / Grigory Barinov /
Yahata Akimitsu / Yamamoto Ryuji / Yoshimoto Yasuhisa
And the artists of New National Theatre Ballet, Tokyo
---
PERFORMANCES

March
2006
23
24
25
26
Thu
Fri
Sat
Sun
3:00
X
X
7:00
X
X

Doors will open 45 minutes before the opening of the performance.
Approximate running time: 2 hours
---
ADVANCE TICKETS

Available from Wednesday 1 February, 2006 at 10:00am.
To order tickets, please call +81-3-5352-9999 (10:00am-6:00pm).
Internet ticket reservation available through the following Websites.(Japanese only)
http://pia.jp/t
http://eee.eplus.co.jp/
---
TICKET PRICES (with tax)
| Seat | S | A | B | C | Z |
| --- | --- | --- | --- | --- | --- |
| Price(yen) | 8,400円 | 6,300円 | 5,250円 | 3,150円 | 1,500円 |
*Seat Z(¥1,500):
Sold to students only at some Ticket Pia outlets on the day before the performance. Any tickets not sold by the performance date will be released to the general public at the NNTT Box Office and some Ticket Pia outlets. One ticket per person. No phone reservations. Students must bring a valid student ID.
*Same day student tickets
(
50% off, except Seat F and Seat Z
)
:
Sold at the NNTT Box Office and some Ticket Pia outlets on the performance date. One ticket per person. No phone reservations. Students must bring a valid student ID.
---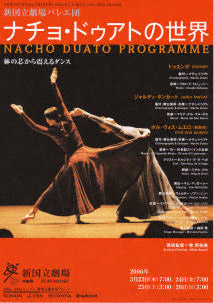 World Premier Program: The World of Nacho Duato
Nacho Duato is a choreographer active on a global scale as one of the prodigies of the world of contemporary ballet. The New National Theatre has previously presented two of his masterworks, Duende and Jardí Tancat. This season, we bring you a program presenting these two works together with a third, Por Vos Muero. This is the first program consisting entirely of works by Nacho Duato to be offered anywhere in the world other than by Duato's own company, Spain's Compañia Nacional de Danza.
Dance Resonating from the Body's Core-Uncanny Feelings and Reverberations
Duende is an evocation of the uncanny, magical spirits of the night known in Duato's native Spain as duende. Jardi Tancat is his debut piece, an expression of feelings for the Mediterranean, which he came to love in his homeland of Valencia. And Por Vos Muero takes its inspiration from the music of 15th and 16th century Spain and the verses of the poet Garcilaso de la Vega, reintegrating the dances and customs of the period into a unique view of the world. It is an homage to an era in which dance held tremendous significance to people of all kinds; one might also say it is an homage to dance itself. We invite you to revel in the world of Nacho Duato, a world of human warmth, of awe and respect for nature, a world overflowing with affection that will resonate with every human heart.
Profile
Born in Valencia, Spain, at the age of eighteen Nacho Duato began professional ballet training at the Rambert School in London, and continued his studies at Maurice Béjart's Mudra School in Brussels and the Alvin Ailey American Dance Center in New York City. In 1981 he was invited by Jirí Kylián to join the company of Nederlands Dans Theater. While active as a dancer, he began to turn his hand to choreography: Jardí Tancat, his first piece, won first prize at the International Choreographic Workshop in Cologne in 1983. Later more than ten of his works were adopted into the company repertory. In 1990 he was appointed artistic director of what is now Spain's Compañia Nacional de Danza. After producing a number of shorter works, including Concierto Madrigal, Coming Together, and Por Vos Muero, in 1997 he choreographed his first full-length ballet, Romeo y Julieta. Works by Duato have been commissioned by and included in the repertory of a number of the world's most prominent ballet companies. In 2000 he won the Benois de la Danse, an award for excellence in choreography presented by the International Dance Association.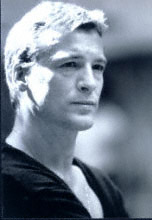 Nacho Duato