TWELFTH NIGHT
THE PIT
---
STAFF

| | | |
| --- | --- | --- |
| Written by | : | William Shakespeare |
| Translated by | : | Odashima Yushi |
| Adapted and Directed by | : | Yamasaki Seisuke |
| | | |
| Set Designer | : | Okamoto Kenji |
| Lighting Designer | : | Yamaguchi Akira |
| Sound Designer | : | Endo Ken |
| Costume Designer | : | Ozaki Yukako |
| Assistant Director | : | Ogasawara Kyo |
| Stage Manager | : | Hori Yoshiyuki |
| | | |
| Planning Cooperation | : | Shakespeare Company for Children |
| | : | Canonkikaku |
| | | |
| Artistic Director | : | Kuriyama Tamiya |
| Produced by | : | New National Theatre, Tokyo |
---
CAST

Izawa Maki, Fukui Kiichi, Enjoji Aya, Sato Chikau, Uemoto Jun
Totani Masahiro, Tsuchiya Ryota, Ouchi Megumi, Yamasaki Seisuke
---
PERFORMANCES

March
2006
7
8
9
10
11
12
14
15
16
17
18
19
Tue
Wed
Thu
Fri
Sat
Sun
Tue
Wed
Thu
Fri
Sat
Sun
1:00
X
X
X
X
X
X
7:00
X
X
X
X
X
X
X
X
X

Doors will open 30minutes before the opening of the performance.
---
ADVANCE TICKETS

Available from Sunday 5 February, 2006 at 10:00am.
To order tickets, please call +81-3-5352-9999 (10:00am-6:00pm).
Internet ticket reservation available through the following Websites.(Japanese only)
http://pia.jp/t
http://eee.eplus.co.jp/
---
TICKET PRICES (with tax)
| Seat | A | B |
| --- | --- | --- |
| Price(yen) | 5,250 | 3,150 |
*Seat Z(¥1,500):
Sold at the NNTT Box Office and some Ticket Pia outlets on the performance date. One ticket per person. No phone reservations.
*Same day student tickets (50% off, except Seat Z ):
Sold at the NNTT Box Office and some Ticket Pia outlets on the performance date. One ticket per person. No phone reservations. Students must bring a valid student ID.
---
This performance presents another facet of the true spirit of Shakespeare; one that you've never seen before!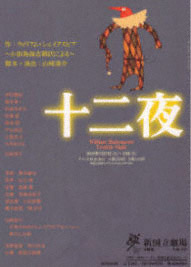 The fascination and appeal of Twelfth Night, Shakespeare's greatest comedy, lies in the way it allows us to feel the humor and joy found in life, as well as the sadness that always lurks somewhere in life.
This production is based on Odashima Yushi's translation of Twelfth Night, and adapted and directed by Yamasaki Seisuke, who has performed in a number of Shakespeare's works. Yamasaki puts to very effective use the experience he has gained through his work with the Shakespeare Company for Children, which he manages, to produce a new version of Twelfth Night for the New National Theater that is both simple and imbued with a playful spirit. The production has assembled a troupe of highly talented actors capable of playing the distinctive personalities that are essential to a Shakespeare play.
Here on the closely knit space of the New National Theater stage, the endless horizon of the rich wordplay of Shakespeare's world stretches as far as the imagination of the audience.

Synopsis
A storm at sea destroys the boat in which Viola and her twin brother Sebastian were traveling. Viola is cast up on the shore, but she believes Sebastian to be dead. Viola disguises herself as a man and goes to a town named Illyria, where she obtains work in the service of Duke Orsino, the ruler of the town. Orsino is courting Olivia, the daughter of a count. However, Olivia is in mourning over the death of her brother and has shut herself in her room, refusing to meet with anyone. In the meantime, while Viola finds herself falling in love with Orsino, she is asked by Orsino to deliver his messages of love to Olivia. Viola is in the difficult position of having to help the man she loves try to win the love of someone else. It is with a very confused heart that Viola goes to meet Olivia. To complicate matters even further, upon meeting Viola, who is disguised as a man, Olivia immediately falls in love with her! To add to the confusion, Sebastian, Viola's identical twin who was believed to have died in the shipwreck, appears on the scene. There is total chaos! How will this impossibly entangled love story end?
---
Izawa Maki
Fukui Kiichi
Enjoji Aya
Sato Chikau
Uemoto Jun
Totani Masahiro
Tsuchiya Ryota
Ouchi Megumi
Yamasaki Seisuke