The Glass Menagerie
THE PIT
---
STAFF

| | | |
| --- | --- | --- |
| Written by | : | Tennessee Williams |
| Translated by | : | Odashima Yushi |
| Directed by | : | Irina Brook |
| | | |
| Set Designer | : | Noelle Ginefri |
| Lighting Designer | : | Hattori Motoi |
| Music by | : | Frank Frenzy |
| Sound Designer | : | Kurono Hisashi |
| Costume Designer | : | Kurosu Hanako |
| Hairstyling and Make-up | : | Nishikawa Naoko |
| Choreographer | : | Tainaka Tomoko |
| Assistant Director | : | Suzuki Higashi |
| Stage Manager | : | Yonekura Yukio |
| | | |
| Artistic Director | : | Kuriyama Tamiya |
| Produced by | : | New National Theatre, Tokyo |
---
CAST

Kiuchi Midori, Nakajima Tomoko, Ishimoda Shiro, Kiba Katsumi
---
PERFORMANCES

February
2006
2/9
10
11
12
14
15
16
17
18
19
21
22
23
24
25
26
Thu
Fri
Sat
Sun
Tue
Wed
Thu
Fri
Sat
Sun
Tue
Wed
Thu
Fri
Sat
Sun
1:00
X
X
X
X
X
X
X
X
X
X
X
7:00
X
X
X
X
X
X
X

Doors will open 30minutes before the opening of the performance.
---
ADVANCE TICKETS

Available from Sunday 4 December, 2005 at 10:00am.
To order tickets, please call +81-3-5352-9999 (10:00am-6:00pm).
Internet ticket reservation available through the following Websites.(Japanese only)
http://pia.jp/t
http://eee.eplus.co.jp/
---
TICKET PRICES (with tax)
| Seat | A | B |
| --- | --- | --- |
| Price(yen) | 5,250 | 3,150 |
*Seat Z(¥1,500):
Sold at the NNTT Box Office and some Ticket Pia outlets on the performance date. One ticket per person. No phone reservations.
*Same day student tickets (50% off, except Seat Z ):
Sold at the NNTT Box Office and some Ticket Pia outlets on the performance date. One ticket per person. No phone reservations. Students must bring a valid student ID.
---
The haunting yearning for family
The tale of recollection by a man escaped from the past
The fantastic production by spirited director will come from France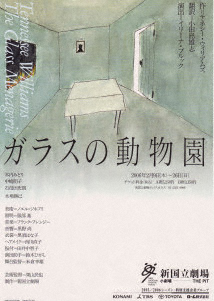 "People come to the theater because they want something to touch their hearts.", director Irina Brook says, and emphasizes the power to "touch our hearts." in Tennessee Williams classic drama "
The Glass Menagerie
".
"The Glass Menagerie" launched the career of Tennessee Williams as a playwright. The play enjoyed a long run as a smash hit on Broadway in 1945. Although Williams wrote many other dramas in his career, "The Glass Menagerie" remains his best-loved play. The captivating appeal of this work is not limited to the theater. "The Glass Menagerie" is also highly regarded and enjoys widespread popularity as a work of literature.
Four characters take the stage in this play. There is Amanda Wingfield, who is both a woman unable to let go of the dreams of her past and a mother whose love for her children almost suffocates them. Amanda has two children: Laura, her painfully shy daughter; and Tom, her son and the breadwinner of the family. The last character is Jim, the young gentleman caller whom Laura is infatuated with. "The Glass Menagerie" opens with Tom's monologue, in which he quietly explains that the play is a look back in time at his life and its intertwining with these characters as viewed through his memories. Tom, who is believed to be modeled on the playwright himself, acts as the narrator of the story and leads the audience through his recollections of the events taking place. In this production of "The Glass Menagerie," Brook has cast Tom as a middle-aged man, even when he is appearing in his memories of events in the past, further emphasizing that this is the tale of recollection.
Irina Brook is the daughter of Peter Brook, one of modern theater's greatest directors. She is a vibrant, fresh new face who is attracting a great deal of attention as a director throughout Europe. This production of "The Glass Menagerie" will bring Brook together with a group of very talented Japanese actors and actresses. Expectations for this collaboration are tremendously high. We hope your hearts are touched by the glowing performances that subtly capture human psychology in the layer upon layer of beautifully nostalgic scenes that fill this delicate and pathos-filled memory play.
Synopsis
"The Glass Menagerie" is set in the American city of St. Louis in the 1930s. It is in a rented apartment overlooking the back streets of the city that the Wingfield family lives out their lonely existence. Amanda is a mother who harbors unrealistic hopes and expectations for her children's future. However, she has been abandoned by her husband and is constantly at odds with her son, Tom, who works in a shoe factory and is the main source of support for the family. The daughter, Laura, has a crippled leg, which has led to her being extremely shy. Her only solace is her collection of glass figurines. Laura does not have a job and seems destined to face life as a spinster. One day, Tom invites Jim, a co-worker at the shoe factory, to come to his home for dinner. Jim is the long-awaited potential suitor for Laura. Amanda is thrilled that Laura finally has a gentleman caller. Laura becomes nervous when she realizes that Jim is the person she had a crush on when she was in high school. When Jim visits the Wingfield home, he is sort of "an emissary from the real world," and brings the family a fleeting moment of happiness. But what follows this brief glimmer of hope?


"Japanese women are also confined by the restrictions placed on them by family and society, so there are a number of levels on which they can identify with Laura. They are very sensitive, and are very much in tune with works that touch their hearts and move them to tears."


----Irina Brook
---
Profile of Irina Brook
At the age of eighteen, Irina Brook left for New York to study drama with Stella Adler. She appeared in a number of off-Broadway plays, then moved her base to England, where she performed in theater, films, and television. In London in 1996, she made her debut as a director. In France in 1998, she won a Molière Award for best direction for "The Beast on the Moon." She also directed "All's Well That Ends Well" for Ariane Mnouchkine's Théâtre de Soleil. In 1999, she co-directed the opera "The Magic Flute" with Dan Jemmett. Following this, she directed "Rèsonances" at the Théâtre de l'Atelier in Paris, which won her a Molière for best new female talent. In 2000, she directed "The Glass Menagerie," for which she won the award for best new talent from France's Society of Authors, Composers, and Music Publishers. In 2002, she directed the opera "Eugene Onegin" for the Festival d'Aix-en-Provence. She is the daughter of director Peter Brook.
---
| | | | |
| --- | --- | --- | --- |
| | | | |
| Kiuchi Midori | Nakajima Tomoko | Ishimoda Shiro | Kiba Katsumi |