The Pit Opera #15
G. F. Händel

: Serse

<Opera in 3 Acts>
<Sung in Italian with Japanese Supertitles>
The Pit
---
STAFF

Music by
:
Georg Friedrich Händel
Libretto by
:
Niccolò Minato
Scenery Design
:
Suzuki Toshiro
Costume Design
:
Onodera Sae
Lighting Design
:
Koyama Kazuhiro
Choreography
:
Ito Noriko
Stage Manager
:
Osawa Hiroshi
Chorus
:
New National Theatre The Pit Opera Chorus
Orchestra
:
New National Theatre The Pit Opera Ensemble
Produced by
:
New National Theatre, Tokyo
---
CAST
Serse
:
Takano Jiro (12,14) / Otsuki Takashi (13,15)
Arsamene
:
Hayama Kosei (12,14) / Aochi Hideyuki (13, 15)
Amastre
:
Yamashita Makiko (12,14) / Seto Yuko (13,15)
Romilda
:
Yamamoto Mayumi (12,14) / Okuma Chikako (13,15)
Atalanta
:
Bunya Sayuri (14)* / Kinoshita Shuko (12,13,15)
Ariodate
:
Katayama Masashi (12,14) / Shimizu Hiroki (13,15)
Elviro
:
Ono Kazuhiko (12,14) / Okubo Mitsuya (13,15)
* Bunya Sayuri, who originally was to perform the role of Atalanta is unable to perform on 12 January due to her physical condition. Alternatively, Kinoshita Shuko is going to take her place.
---
PERFORMANCES

January
2006
12
13
14
15
Thu
Fri
Sat
Sun
3:00
X
X
7:00
X
X

Doors will open 30 minutes before the opening of the performance.
---
ADVANCE TICKETS

Available from Sunday 13 November, 2005 at 10:00am.
To order tickets, please call +81-3-5352-9999 (10:00am-6:00pm).
Internet ticket reservation available through the following Websites.(Japanese only)
http://pia.jp/t
http://eee.eplus.co.jp/
---
TICKET PRICES (with tax)

All Seat Reserved ¥5,250

Seat Z (¥1,500) is sold only on the performance day at the Box Office and a part of Ticket Pia Offices.
Regular seating will not be used. The four front rows will be turned into boxes with square floor cushions only.
---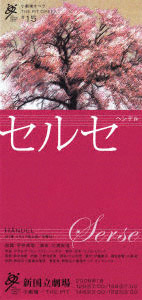 The 21st-century version of Serse analyzes, digests, and restructures the work to seek Händel's message

Serse (Xerxes) is a popular opera by Händel, a great composer of baroque music who ranks with Bach. It begins with Ombra Mai Fu (Shade There Never Was), an aria famous for its mellifluous melody. The comic fable set in the Persia of the fifth century B.C. experiences a modern rebirth through the innovative direction unique to The Pit's series of opera performances, which have been well received for their ambitious approaches every time they have been given. The story unfolds on a stage built in the center of the theatre, like that of Noh. It transcends the correlations between mythology and reality and between fiction and reality and merges with the audience, inviting us to the 21st-century world of Serse.

Synopsis
On a spring day, the filming of the movie Serse, which features performers recruited from among cherry blossom viewers, begins in a corner of a park. Serse, the King of Persia, is engaged to Amastre but falls in love with Romilda, his brother Arsamene's lover, and attempts to win Romilda from his brother by taking advantage of his royal power. Meanwhile, Romilda's sister Atlanta is in love with Arsamene. Each of the characters uses trickiness to realize their wishes, but all fail. All of their hearts are hurt, storms destroy the shrine, and the tree to which the King prays for world peace is reduced to ashes except for its trunk. But as a step toward rebirth is taken through the power of love, the decaying tree blooms again.
| | |
| --- | --- |
| <Conductor> | <Production> |
| | |
| Hirai Hideaki | Miura Yasuhiro |
<Cast>
Serse (12,14)
Takano Jiro
Arsamene (12,14)
Hayama Kosei
Amastre (12,14)
Yamashita Makiko
Romilda (12,14)
Yamamoto Mayumi
Atalanta (14)
Bunya Sayuri
Serse (13,15)
Otsuki Takashi
Arsamene (13,15)
Aochi Hideyuki
Amastre (13,15)
Seto Yuko
Romilda (13,15)
Okuma Chikako
Atalanta (12,13,15)
Kinoshita Shuko