NEW NATIONAL THEATRE,TOKYO 2005/2006 SEASON
Contemporary Dance: Dance Planet No.19
Collaboration & Body
THE PIT
FY2005(60th)National Arts Festival,
cooperated by the Agency for Cultural Affairs
---
STAFF

| | | |
| --- | --- | --- |
| Artistic Director | : | Maki Asami |
| Production Director | : | Miki Yoko |
| | | |
| Lighting Design | : | Ogasawara Jun |
| Sound Design | : | Kawata Yasuo |
| Stage Manager | : | Shibasaki Dai |
| | | |
| Produced by | : | New National Theatre, Tokyo |
---
CAST
" Ibuki - Miraculous Nature "
Moriyama Kaiji (Dance) & Miyazaki Hideto (Flower arrangement)
Costumes : Shibata Konomi Music : Taneda Go
" HO &middot O &middot E &middot TSU "
Nohmi Kenshi (Dance) & Takada Midori (Percussion)
Costumes : Hishinuma Yoshiki Iron Properties executed by : Hongo Shigehiko
---
PERFORMANCES

2005
November
25
26
27
(Fri.)
(Sat.)
(Sun.)
3:00
X
X
7:00
X

Doors will open 30 minutes before the opening of the performance.
Approximate running time: 1 hour 40 minutes
---
ADVANCE TICKETS

Available from wednesday 14 September, 2005 at 10:00am.
To order tickets, please call +81-3-5352-9999 (10:00am-6:00pm).
Internet ticket reservation available through the following Websites.(Japanese only)
http://pia.jp/t
http://eee.eplus.co.jp/
---
TICKET PRICES (with tax)
| | | |
| --- | --- | --- |
| Seat | A | B |
| Price(yen) | 5,250 | 3,150 |
Seat Z (¥1,500) / Same day student tickets (50% off) is sold only on the performance day at the Box Office and a part of Ticket Pia Offices.

---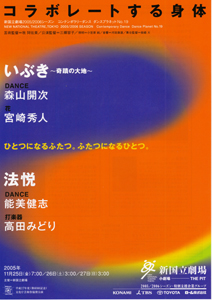 Collaboration & Body is a new program that can only be presented by dance, an art form capable of incorporating all kinds of art through free body expression inspired by free ideas. Dancers pursuing their own style meet artists from other categories to create one work through collaboration that starts from concept building. In the forthcoming production, Nomi Kenshi and Moriyama Kaiji, both choreographers and dancers who have achieved remarkable results in dancing circles, will collaborate with a percussionist and an artist optimizing flowers, respectively. Please look forward to seeing how two talented artists from different categories react to each other in their performance.
" Ibuki - Miraculous Nature "
Moriyama Kaiji (Dance) & Miyazaki Hideto (Flower arrangement)
Costumes : Shibata Konomi Music : Taneda Go
---
Moriyama Kaiji
Born in 1973, Moriyama Kaiji started to perform as a solo dancer after he was evaluated as one of the most talented dancers at the Edinburgh Festival in 2001. He worked on various experimental works, including performances in the precincts of Shinto shrines, as well as Yoroboshi and Okina, both based on Noh plays. In January 2005, The New York Times described him as an amazing dancer for his extraordinary physical abilities and unconventional, unique expression. He aggressively seeks opportunities for body expression using a wide range of media as exemplified by his appearance in movies, including Cha no Aji released in 2004, as well as his appearance in NHK Education Channel's program Karada de Asobo (Let's play with the body).
---
Miyazaki Hideto
Miyazaki Hideto was interested in Ikenobo flower arrangement from his childhood and later studied flower arrangement under Kawase Toshiro. He proposed flower arrangement as an installation in Hori Hiroshi's "Choka" performance in 1983. While he continued to pursue flower arrangement, he took interest in a wider range of artistic activities, including creation of artistic objects. In 1987, he began to publish numerous photographic works, including those taken in the Pamirs, the Sahara, and other unexplored regions of the world. In 1995, he established the Flower Arrangement Art School to propose new lifestyles through flower arrangement, which gained public favor. From this time on, he actively used such materials as thick straw ropes, iron, lead, tin, and glass in his production under the theme "Flowers and Collaboration." His production under the concept "Sharing and Harmony with Flowers" has continued to the present day.
" HO &middot O &middot E &middot TSU "
Nohmi Kenshi (Dance) & Takada Midori (Percussion)
Costumes : Hishinuma Yoshiki Iron Properties executed by : Hongo Shigehiko
---
Nohmi Kenshi
Nohmi Kenshi studied modern dance, classic ballet, and American contemporary dance with Mochizuki Tatsuo, Matsuura Isamu, and Hirabayashi Kazuko, respectively. He won the grand prize in the Saitama International Dance Competition in 1993, the Ministry of Education award in the All Japan Dance Competition (creative dance category) in 1994, and the Muramatsu award in 1995. In 1993, he launched his own dance company Dance Teatro 21 to give performances in Japan and abroad. His major works include Hakujitsumu, The Last Era of Cinderella, and Filling out---Kuhaku. At the NNTT, he performed Regeneration in 1997, Three Minutes with Reality, Three Minutes with Unreality---An Homage to Piazzolla in 1999, and "Chaconne" at Afternoon of Fauns and Nymphs in 2003.
---
Takada Midori
Born in Tokyo, Takada Midori made her debut as a solo percussionist with the Berlin Radio Symphony Orchestra in 1978. Later, she actively gave performances in various cities worldwide. In the 1980s, in addition to playing as a soloist, she started to play with African and Asian musicians and also perform unique pieces she composed while making the most of the structure of traditional music. Her distinctive style shown in collaboration with painters, dancers, and dramatists won high praises. She received the Third Zenzeikyo Cultural Service Award in 1995 and the Sipario Theatrical Award in 1996.
Moriyama Kaiji
photo/Shimizu Kazuto
Nohmi Kenshi
photo/Ikegami Naoya
| | |
| --- | --- |
| | |
| Miyazaki Hideto | Takada Midori |