The heroic life of a woman who survived the war but lost everything
This antiwar play written powerfully by the great playwright Brecht while in exile will be presented at the NNTT!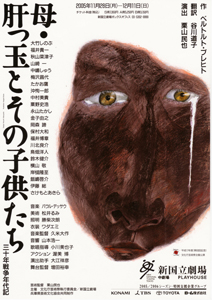 Bertolt Brecht was one of the 20th century's greatest playwrights, who adopted many kinds of experimental dramaturgy to present theatrical innovations energetically. The NNTT will present Mutter Courage und ihre Kinder (Mother Courage and Her Children), one of the most important of his many works, together with The Three-penny Opera. Brecht's continuously engaged in theatrical activities critical of the Nazis and was forced to flee his country. He wrote this play in 1939, while living in Sweden. This is an antiwar play that emphasizes the futility of war from the perspective of a mother who lives strong-mindedly with her children.
The director is Kuriyama Tamiya, Artistic Director for the Drama Division at the NNTT, who has directed many high-profile works, including Morning Becomes Electra, performed at the NNTT in November 2004, which won the Asahi Performing Arts Grand Prize. He has enjoyed reading Brecht's plays since his student days and will take on the challenge of directing his work after thorough preparation. The heroine Anna will be played by Otake Shinobu, whose convincing performance in Morning Becomes Electra was the driving force behind the award of the Grand Prize. This is the second Brecht play she will take on, after her appearance in The Good Woman of Setzuan in 1996. One of the pleasures in watching a live performance is listening to the original music inserted effectively into the drama.
Look forward to a 21st-century production of Brecht's play Mutter Courage und ihre Kinder (Mother Courage and Her Children), which the NNTT will present by assembling capable actors and actresses well known for their outstanding acting ability in musicals, as well as little-theatre and shingeki drama.
Synopsis
In the 17th century, Germany was at the height of the Thirty Years' War, the last religious war that involved European powers. Anna, "Mother Courage," who was known to lead a vigorous life even during the war, and her three children, travel from battlefield to battlefield, selling goods in their covered wagon. One day, her eldest son enlists as a soldier and leaves her. He is praised as brave during the war, but is executed for the crime of plunder. Furthermore, her second son, who worked for the military unit as an accountant, is taken captive together with a regiment, and brought before a military tribunal. She tries to bribe the judge, but not in time for his execution by a firing squad. As the war spreads to wider areas, she moves from one place to another with her wagon. Her business prospers temporarily, but peace suddenly arrives, preventing her from continuing her business. As war breaks out again, she wanders from one battlefield to another together with her daughter, her only child who has survived the war, but her daughter eventually dies a sad death. Mother Courage, who does not know that her eldest son was executed and believes him to be still alive, silently trudges alone to a new battlefield pulling her wagon behind her.