A new production of the greatest opera buffa directed by Josef E. K
ö

pplinger, a promising new star in operatic circles
A spicy love story driven by the shrewd and cunning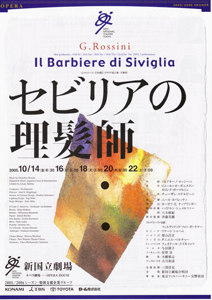 The performance promises to be entertaining in every sense of the word.
An extremely cheerful love comedy that is entertaining in every sense of the word

Il barbiere di Siviglia (The Barber of Seville) is the most popular of Rossini's operas and one of the greatest masterpieces in opera buffa. This comedy unfolds at a delightful tempo to buoyant music replete with a sense of speed. Familiar numbers, including the beautiful overture often included in concert programs, "Largo al factotum (Make way for the factotum)" in which Figaro talks boastfully in a fast voice, and "Una voce poco fa (The voice I heard a while ago)," Rosina's aria, which includes many coloratura passages, will be heard in succession. The performance promises to be entertaining in every sense of the word.



A love story that cannot be told without money and looks

The director is Josef E. Köpplinger, a promising new star, who is recommended by all European directors. Artistic director for the drama division of the St. Gallen Opera in Switzerland, which has produced many high-profile directors, Köpplinger, a gifted director, will portray this sidesplitting love comedy as a spicy love story driven by the shrewd and cunning. Please look forward to Rossini's refined, exhilarating music by the conductor Nir Kabaretti, who excels in Italian opera, and young singers who have all shown remarkably rapid progress, including Rinat Shaham, who has made her sensational debut at the world's best opera houses and is attracting much public attention, Ferdinand von Bothmer, and Daniel Belcher.


Synopsis
The setting is Seville, Spain under the Franco regime. Count Almaviva, a young dandy, falls in love at first sight with Rosina, the most beautiful girl in town. But he cannot easily approach her because her guardian, Dr. Bartolo, who is infatuated with her for her wealth, interferes with his courtship. So he seeks Figaro's help. Figaro is a barber and general factotum, who, if paid, undertakes everything from hairdressing to consultation about others' personal affairs, to acting as an intermediary for lovers, and as a hired scribe. The count tries every trick to sneak into Dr. Bartolo's house and successfully conveys his feelings to Rosina but gives rise to great confusion. Thanks to Figaro's quick wit, he manages to ride out a crisis, and after much ado, the opera comes to a happy ending.