The Pit will be turned into a small row house!?
Youthful energy creates 21st-century Kara drama here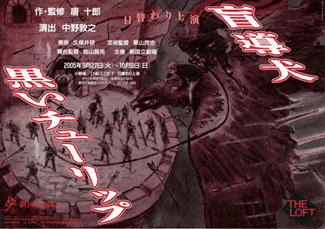 The first production in the series for the 2005/2006 season "THE LOFT: A Proposal from a Small Room" will feature two great works by Kara Juro, one of the most prominent writers of underground dramas in the 1960s, from his Jokyo Gekijo (Situation Theater) troupe period. The two plays will be performed on alternate days. The director is Nakano Atsuyuki, the leader of Karazemi, a theater company created when Kara taught at the Yokohama National University as a professor. Youthful sensitivity will be added to the brilliance of the works to create a 21st-century version of Kara drama. An audition was held for Kuroi Tulip by Kara and Nakano. Together with newly recruited actors and actresses, members of Karazemi will perform on the stage of The Pit, which will be turned into a small row house, with unbounded energy. Please look forward to the moment when the unique Kara works, which are different from the Crimson Tent performances, which continue to enjoy tremendous popularity even today, are created.



Kuroi Tulip (Black Tulip)
Echo, an unpopular vocal mimicry entertainer Echo came to a noisy pachinko parlor. His aim was to return the 100,000 yen he found at a client's office to its owner, and the only clue was the envelope that contained the money.
He soon fell in love with a "black tulip" on the pachinko machine that was especially conspicuous in the parlor. Then Keiko, the owner of the bills, appeared from behind the machine.
The money was important to Keiko because she intended to use it to have her elder sister Nobuko released from prison. Nobuko had ridden a taxi without paying the fare. Prior to this imprisonment, she had been incarcerated for violence, and after her release, she stole a ride in a taxi and soon ended up behind bars again.
Why did Nobuko fear sunlight and spring and return to a prison? What was the "black tulip" she had taken good care of? The black petals in the pot Nobuko left to Keiko are bearing fruit now!
Modoken (Guide Dog)
In front of a row of coin lockers, a familiar sight in Shinjuku, Kage Hario, who has become separated from his guide dog Fakiiru meets Okujiri Icho, who comes to the coin lockers every day. Three years ago, her now deceased husband shut her memory of her former lover up in Locker No. 330.
While Hario, together with a vagrant boy hanging around the station, searches for Fakiiru, which is said to be a notoriously disobedient dog, Icho, who has met her former lover Tadaharu again, tries to free herself from her deceased husband's control.
Icho's husband, who is believed to have died in Bangkok, appears in front of them as an instructor at a school for training guide dogs...
Yokohama National University has cooperated in the performances of these works.