Handing down these plays to people today and to future generations…
The Loft × Kishida Kunio = !?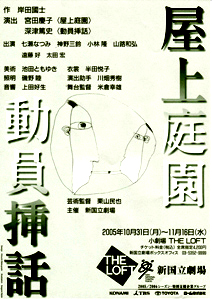 "The Loft: A Proposal from a Small Room" is a program that enables the audience to experience the power of words and the presence of actors in drama at close proximity in a small room. The forthcoming production will be comprised of plays carefully selected from among many contemporary works that should be handed down to posterity, and it explores their potential from a new perspective. Kishida Kunio (1890-1954), one of the founders of the Bungakuza Theater and the eponym of the Kishida Kunio Play Award, was active during the Taisho and Showa eras and pursued drama closely associated with the joys and sorrows of the everyday life of modern people. Two short plays will be chosen from among his greatest works. Okujo Teien in which drama is created from casual conversations with an old friend whom the hero meets again by chance will be directed by Miyata Keiko, who is active at the frontline of today's theatrical circles in fact as well as in name and won the Minister of Education's Art Encouragement Prize for New Artist, the Best Director Prize of the Yomiuri Drama Grand Prize, and other awards. The other work, Doin Sowa, which depicts the agony of a married couple, where the husband is sent to the front in the Russo-Japanese War, will be directed by Fukatsu Shigefumi, a young stage director who is attracting the most attention in the Kansai region today and who has won the Kishida Kunio Play Award, the Osaka Sakuya Konohana Prize, and other awards. This ambitious double bill featuresan interesting contest between the two directors in the spotlight and a gorgeous cast of capable actors and actresses. Please enjoy the careful portraiture of characters and the skillfully written conversations in Kishida's plays to the full in the enclosed space of The Loft.