Invitational Programme for Performing Arts in the Region
Silence
<opera in 2 Acts>
<sung in Japanese>
PLAYHOUSE
---
STAFF

Original by
:
Endo Shusaku
Libretto & Music by
:
Matsumura Teizo
Conductor
:
Yamashita Kazufumi
Production
:
Nakamura Keiichi
Scenery Design
:
Masuda Sumiko
Lighting Design
:
Momiki Minoru
Costume Design
:
Handa Etsuko
Sound Design
:
Ono Takahiro
Stage Manager
:
Sugahara Takahiro
Chorus Master
:
Okumura Tetsuya
Chorus
:
The College Operahouse Chorus, OSAKA
Children's Chorus
:
KOROPOKKURU-CHOR
Children's Chorus Master
:
Doi Katsue
Orchestra
:
The College Operahouse Orchestra, OSAKA
Cosponsored by
:
New National Theatre, Tokyo /
The College Operahouse
Assisted by
:
Rohm Music Foundation
---
CAST

| | | |
| --- | --- | --- |
| Rodrigo | : | Komochiya Tetsuo |
| Valignano | : | Shinkawa Kazutaka |
| Ferreira | : | Ihara Hideto |
| Kichijiro | : | Masu Takashi |
| Mokichi | : | Matsumoto Kunpei |
| Oharu | : | Ishibashi Emi |
| Omatsu | : | Noma Naoko |
| Inoue, Lord of Chikugo | : | Tanaka Tsutomu |
| Interpreter | : | Aoki Kohei |
| Boy | : | Terauchi Tomoko |
| Jisama | : | Matsumori Osamu |
| Old Man | : | Nishio Takeshi |
| Chokichi | : | Yasukawa Tadayuki |
| Official, Prison Official | : | Kariki Satoru |
---
PERFORMANCES

2005
September
Sep. 16


(Fri.)

Sep. 18


(Sun.)

2:00
 
X
6:30
X
 

Doors will open 45 minutes before the opening of the performance.
Approximate running time: 2hours 45 minutes.
---
ADVANCE TICKETS

Available from Sunday 7 August, 2005 at 10:00am.
To order tickets, please call +81-3-5352-9999 (10:00am-6:00pm).
Internet ticket reservation available through the following Websites.(Japanese only)
http://pia.jp/t
http://eee.eplus.co.jp/
---
TICKET PRICES (with tax)
| | S | A | B | C | Z |
| --- | --- | --- | --- | --- | --- |
| Price(yen) | 9,450 | 7,350 | 5,250 | 3,150 | 1,500 |
*Seat Z(•1,500):
Sold at the NNTT Box Office and some Ticket Pia outlets on the performance date. One ticket per person. No phone reservations.
*Same day student tickets (50% off, except Seat Z ):
Sold at the NNTT Box Office and some Ticket Pia outlets on the performance date. One ticket per person. No phone reservations. Students must bring a valid student ID.
---
Lord, Dost Thou Really Exist? Ah!
In one of the greatest of his novels, Endo Shusaku questions whether God exists. The composer Matsumura Teizo tackled this masterpiece head-on and created a moving drama after 13 years of effort———one of Japanís most acclaimed operas!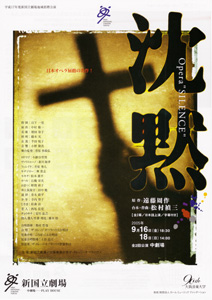 As one of its exchange projects for local promoters of contemporary performing arts, the New National Theatre Tokyo has invited The College Opera House, which has been much praised for the high quality of its performances based in Osaka. The College Opera Houseís 118 staff members will participate in performing the great opera Silence, which was premiered in 1993 and first performed in 1995, based on a partially revised version. Presented by the NNTT in 1999, the first performance in Kansai of the opera was by the College Opera House in 2003. This production received the Grand Prize of the 2003 Osaka Cultural Festival Awards and the Critique Club Award for its dignified stage design and direction, as well as for its beautiful rendering of the Japanese language, and the NNTT has confidence in this production. Look forward to Silence, which leaves a fresh impression on the audience and enhances its value every time it is performed.
Synopsis
In the early 17th century, when the oppression of Christians reached its height in Japan, the young missionary Rodrigo secretly came to Nagasaki. Poor believers in the village are arrested before his eyes and die after gruesome torture, but he cannot help them nor does God lend a helping hand. Soon he himself is arrested, and his mentor urges him to abandon his belief in Christianity to rescue the believers. Rodrigo frantically prays to God, who remains silent. In despair, he stands before a fumie, a plate with a crucifix to be trodden on to prove oneself a non-Christian.
| | |
| --- | --- |
| < Conductor> | <Production> |
| | |
| Yamashita Kazufumi | Nakamura Keiichi |
<Cast>
Komochiya Tetsuo
Shinkawa Kazutaka
Ihara Hideto
Masu Takashi
| | | | | |
| --- | --- | --- | --- | --- |
| | | | | |
| Matsumoto Kunpei | Ishibashi Emi | Noma Naoko | Tanaka Tsutomu | Aoki Kohei |
| | | | | |
| --- | --- | --- | --- | --- |
| | | | | |
| Terauchi Tomoko | Matsumori Osamu | Nishio Takeshi | Yasukawa Tadayuki | Kariki Satoru |