The greatest masterpiece by two masters in contemporary German drama will finally be presented at the New National Theatre, Tokyo.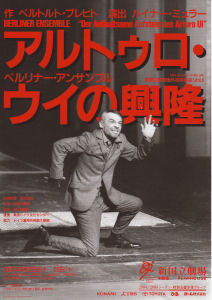 Since 2001, the NNTT has presented excellent foreign dramas to the Japanese audience, arousing much interest in both Japan and abroad. As part of the Deutschland in Japan 2005/2006 program, this production, the fourth in the series of excellent foreign dramas, will take up Der aufhaltsame Aufstieg des Arturo Ui (The Resistible Rise of Arturo Ui) written by Bertolt Brecht, a great master in German theatrical circles, during World War II. This play uses the analogy of the underworld in Chicago to depict the process of Hitler and his Nazis using all possible means to establish Hitler's dictatorship. It skillfully incorporates the historical drama of Hitler's rise to power into its plot. As the German title "aufhaltsame Aufstieg (Resistible Rise)" suggests, this work also looks sternly at not only Hitler but also the social environment that allowed his emergence.
Arturo Ui, boss of a lackluster criminal gang, detects the realities of collusive ties between Mayor Dogsborough and the leaders of the vegetable and fruit trust (market) and starts to blackmail the mayor taking advantage of his weakness. Dogsborough is obliged to join hands with Ui, and as a result, Ui gradually seizes more power and eventually controls the vegetable and fruit industry in the city. Fearing Ui's control, however, the trust tries to expel the gangster. Ui, aiming to further increase his influence through forceful measures, kills his henchmen and people around him and chooses to reconcile himself with the trust. But he becomes increasingly isolated and begins having nightmares night after night…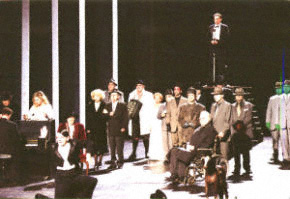 This is the posthumous work of Heiner Müller, another great master in contemporary German drama, and is considered one of the best among the many works directed by him. It has been performed not only in Berlin, but also in various countries the world over, by the Berliner Ensemble founded by Brecht himself. The total number of its performances given so far exceeds 300, making it a long run worldwide. Audiences are sure to fully enjoy this outstanding contemporary drama characterized by a comical merger of the tale of gangsters and German history, by Müller's direction brilliantly portraying a new image of Brecht, and by an extraordinary performance of Martin Wuttke as Ui, in this long-awaited Japan premiere of Der aufhaltsame Aufstieg des Arturo Ui.