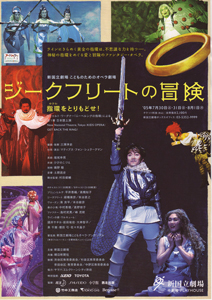 Synopsis

The Valkyries, informed by the sound of a siren that Fafner is in battle, rush to the site of fighting. Brünnhilde faces Fafner with Nothung, her father Wotan's sword, but the sword is broken. Wotan then appears and drives away Fafner. Infuriated at the sight of the sword that has been broken into two pieces, however, he sentences Brünnhilde to a long sleep as punishment. Nothung is a sacred sword that shows its power only in the hands of a dauntless hero. Siegfried, who is traveling aimlessly, is shown a picture of sleeping Brünnhilde by Waldvogel and soon falls in love with her. He makes up his mind to wake her up. And together with a small bird, he heads for the Rhine to obtain the mysterious ring that is possessed by the Rhinemaidens with the aim of dedicating it to Brünnhilde. The ring has been stolen by Fafner, however. Wotan appears in front of the disheartened Siegfried. The ruler of the gods regrets that he has inflicted too harsh a penalty on his daughter. The bird introduces the two to each other. Wotan recognizes immediately that Siegfried is no ordinary young man, and handing the fragments of his sword to Siegfried, he secretly expects something…


Brünnhilde
One of nine Valkyries, daughters of Erda and Wotan. She has Wotan's important sword Nothung shattered and is put to long sleep as punishment.

Siegfried
A brave young man who wanders various countries. Found by Wotan when he is seeking the Ring, he re-tempers Nothung and leaves for an adventure.

Wotan
Profoundly intelligent father of Brünnhilde. He puts Brünnhilde, who broke her promise, to sleep but firmly believes that Siegfried is just the hero who will awaken his daughter.

Waldvogel
Mysterious creature which brings Siegfried and Brünnhilde together and invites them to adventure.

Fafner
Rough villain. He takes away the Rhine gold and uses the Tarnhelm to transform himself into a huge dragon.

Die drei Rheintöchter
Water nymphs living at the bottom of the Rhine. They protect the Rhine gold.

Drei Walküren
Sisters of Brünnhilde. Their mission is to work for Wotan.

************************************************************************
The NNTT wishes to convey the magic enjoyment of the performing arts to children, who are naturally full of curiosity.This wish has brought together passionate production staff to create GET BACK THE RING!.The fantasy of love and adventure, which has enthralled children in the past, will return to the NNTT.
The GET BACK THE RING! is a one-act opera based on the story of Siegfried, the hero who appears in Der Ring des Nibelungen (The Ring of the Nibelung) by the German composer Richard Wagner. Opera is a drama in which the story is expressed in music, consisting mainly of songs sung by the characters.
Beautiful and magnificent music, live performance by an orchestra, overwhelming power of singers who sing without microphones, impassioned acting in front of the audience, effects of stage settings that unfold one after another---all these combine to lead to the moving denouement of the story in which love is extolled.
A series of devices in stage setting will thrill and excite children and fill their minds with courage and hope by the end of the performance, which promises to delight children as never before.The NNTT hopes that together with their families and friends, interested elementary and junior high school students will enjoy their first opera experience as part of the audience of the theatre during the summer vacation this year.