The latest work of "drama with music" in the style of Inoue finally comes into bloom Numerous tricks are unveiled as the sidesplitting play, a mishmash of truth and untruth, unfolds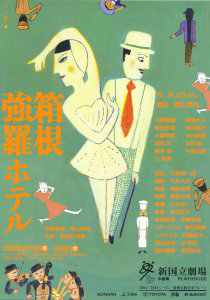 — In 1945, the Hakone Gora Hotel, one of the most distinguished hotels in Japan at that time, was entirely requisitioned by the Japanese government and designated as an emergency place of refuge for the Embassy of the Soviet Union in Japan. The Soviet Union was one of the few neutral allies (although in fact a potential enemy) of the Great Empire of Japan, which had been driven into a corner by the Allied Powers. —
Inoue's new work will be presented as the third in the "Laughter" series for this season, and this is the only work in the series that will be performed in the Playhouse.
The playwright Inoue Hisashi has published many great works that stand out in the history of contemporary drama and has constantly provided the NNTT with masterpieces, including Kamiyacho Sakura Hotel, which was staged as one of its inaugural performances, as well as Yume no Sakeme (A Crack of Dream) and Yume no Namida (Tears of the Dream), both of which constitute the Tokyo Trial trilogy. True to his motto "Writing difficult things in easy to understand terms, easy things profoundly, and profound things interestingly," Inoue continues to create delightful plays filled with laughter though he tackles heavy, profound subjects. In addition, ever since Yume no Sakeme, musical dramas in the style of Inoue, which use more songs than before, have come into full bloom. Examples of what he calls "drama with music" include Taiko Tataite Fue Fuite (Playing Drum and Flute), produced by the Komatsuza Company and which has won many drama awards, and Ensho to Shinsho (Rakugo comedians Ensho and Shinsho), one of his most recent works.
— What is the outcome of peace moves? Will not the Soviet Union on which Japan depends join in the war? (In fact, the Soviet Union secretly decided to fight against Japan during the Yalta Conference in February, but none of the Japanese in those days knew it.) —

In this play, when raking through the massive amount of materials he owns, Inoue found and paid close attention to the fact that at the end of the war, Hirota Koki, the former prime minister, who was to be executed as a class A war criminal, had a secret meeting with Soviet officials at the Hakone Gora Hotel to ask the Soviet Union to act as an intermediary for peace negotiations. The serious issue of whether Japan, in a miserable situation at the end of the war, could be saved is depicted as a sidesplitting play in Inoue's characteristic style, and complicated tricks are unveiled as the play develops with famous pieces of Russian music, including Tchaikovsky.
An unknown wartime episode hidden behind the history of the Pacific War, a mishmash of truths and untruths unique to Inoue, unfolds with a splendid cast of actors and actresses, skilled production staff, and seven musicians.
Who are really spies? Who are allies? All characters are dubious… What is the message hidden behind the food menu? Do various objects that fill the hotel signify any secret code? As doubts give rise to doubts, the battle with the Great Empire of Japan's fate at stake begins at the Hakone Gora Hotel now...