New production of the operatic drawing card Madama Butterfly
Puccini's masterpiece presented to the world from 21st-century Tokyo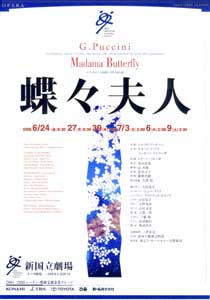 Among Puccini's operas, Madama Butterfly is overwhelmingly the most popular, primarily for its beautiful music and dramatic plot. Set in Nagasaki, the opera uses many well-known Japanese melodies, including "Sakura Sakura," "Echigo Jishi," and "Oedo Nihonbashi." The Japanese are particularly attached to this work, placing it at the top of the list of operas they would like to see and listen to at least once. It is not only the exotic sentiments found everywhere in the work, but also the mellifluous music unique to Italian opera, such as the duet by Cio-Cio-San and Pinkerton "Vogliatemi bene (Love me a little)," Cio-Cio-San's aria "Un bel di vedremo (One fine day he'll come)," and a humming chorus that leads to the scene of a fateful reunion, that give depth to the tragedy.

Kuriyama Tamiya, who directs this production, has an established reputation for his convincing drama productions as well as for his ability to build a profound, beautiful and spatial world that encompasses the entire theatre. One example of this is his direction of the play Mourning Becomes Electra, which won the Grand Prize of the Asahi Performing Arts Awards this year. Many may remember the tense scene of a heavy snowstorm he created for the opera Yuzuru (The Twilight Crane). In the forthcoming production of Madama Butterfly, he will carefully depict the development of Cio-Cio-San from a cute little girl to a mature woman with hidden fortitude, as well as the conflict of different cultures, a major subject that underlies the opera. The title role, the greatest focus of this opera, will be sung by Omura Hiromi, who is active in French operatic circles. When this extraordinarily talented soprano sang Micaela in Carman at the NNTT, she won the applause of the whole house, making a strong impression on the audience with her beautiful voice and acting. Be sure not to miss the performance of Madama Butterfly presented to the world from 21st-century Tokyo!


Synopsis
The setting is Nagasaki in the Meiji Era. The U.S. naval officer Pinkerton buys the freedom of 15-year-old Cio-Cio-San in Nagasaki, where his ship docked, and marries her without giving it too much thought. Pinkerton soon departs for America. Despite his long silence, Cio-Cio-San waits for her husband's return in the belief that "one fine day he will come back" and turns down a new proposal of marriage. Finally Pinkerton's ship calls at Nagasaki again. But he is accompanied by his wife Kate. Having seen an unfamiliar American woman and learned the whole truth, Cio-Cio-San kills herself with a dagger left by her father.