Long-awaited repeat production of the work that won the Grand Prize of the Asahi Performing Arts Awards
2005 version of the "Present day Japan and South Korea," told quietly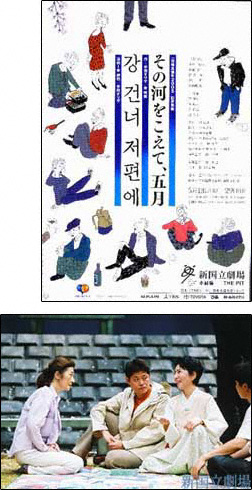 This is a unique Japanese-South Korean collaboration. The participants from Japan are the playwright and stage director Hirata Oriza, as well as six actors and actresses, including Mita Kazuyo. Those from South Korea are the playwright Kim Myung Hwa and the stage director Lee Byung Hoon, as well as five actors and actresses, including Bark Sung Hee. The work, which won the Grand Prize of the Asahi Performing Arts Awards, was created in 2002 when the FIFA World Cup soccer tournament was co-hosted by Japan and South Korea. Its performance in Seoul, South Korea, was also well received and won a prestigious theatrical award, meaning the play has the distinction of having earned an award in both Japan and South Korea. Although the recent "Korea boom" has brought the two countries closer to each other, even deeper mutual understanding and trust between the two is hoped for today. This play promises to provide a future outlook for Japan and South Korea and is one of the works that received the largest number of requests for a repeat performance.

People try to communicate with one another in some way or other in a situation in which they cannot make themselves understood in their own language. Historical relationships between Japan and South Korea, familial bonds, issues related to ethnic Koreans residing in Japan, views of the state, differences in customs, ties of people who sympathize with one another beyond ethnic differences ― with "cross-cultural communication as its theme, the play, set in a dry riverbed in Seoul where many citizens of the city gather to relax, quietly depicts fragments of "present day Japan and South Korea" through conversations into which encounters and partings are woven.

The forthcoming production, which brings together almost the same cast of actors and actresses ― famed for their excellent teamwork ― as for the first performance, is an event of Japan-Korea Friendship Year 2005, a series of celebrations held in commemoration of the 40th anniversary of the normalization of the diplomatic relations between Japan and South Korea. After its performance in Tokyo, the play will also be staged across the nation. In July, it will be performed in Seoul again. In the play, the actors and actresses speak Japanese and Korean, enabling the audience to experience the fascinating aspects of encountering a different culture, as well as the wonder and perplexity in doing so, and provide a perfect opportunity to discover present day Japan and South Korea.

Synopsis
The curtain rises on the scene of a beach on the Han River in Seoul in the spring.Kim Mun Ho, a teacher at a Korean-language school who aspires to be a novelist, is the eldest son but is still not married.Today, he is on a picnic together with his family and students.His brother Kim Jae Ho, tired from the hectic life of a salaried worker, plans to emigrate to Canada with his wife, but he has not been able to raise the issue thinking that his mother might object to the plan, so he has decided to bring up the issue sometime during the picnic.
Students of a language school include Japanese of all ages and from different professions: a housewife who came to South Korea with her husband, who was transferred to the country; a young man who felt uncomfortable at a Japanese school and stopped attending it, ending up traveling as far as Seoul; a salaried employee who is stationed in the Seoul office of a nursing care items sales company; a Japanese man of Korean descent who came over to Seoul to become an Olympic athlete in clay pigeon shooting, and his girlfriend; and a man who is traveling around the world hopping from one part-time job to another.
They start to gather in small groups, and the picnic begins. At first, they are out of kilter with one another due to their inability to speak Korean, but as time goes by, they become gradually relaxed, and their conversations start to pick up.
Then a Japanese tourist gets lost and stray into the party…
<
Stage Photos (première in June 2002)
>