Liberation for freedom through love
A moving masterpiece whose music eloquently speaks of idealism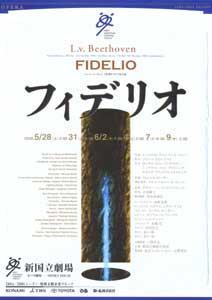 Fidelio is the only opera written by Beethoven, the great master of music.The composer put all his energies into this opera, revising it repeatedly over the nine years after the publication of its first edition.The masterpiece reflects Beethoven's highly idealistic concepts in a straightforward fashion, expressing the ideas of justice, virtue, love and liberation for freedom through music.The magnificent overture, rewritten every time the opera was revised, and the celebrated "Prisoners' chorus" shows his personality, and in the finale consisting of a large choir and orchestral music, the audience will certainly be overwhelmed by the splendid, divine and impressive music.

The stage director will be Marco Arturo Marelli, originally a scenery designer, who is active in major European cities, including Vienna and Salzburg.He will build spiritual spaces on the stage, visualizing Beethoven's music architecturally.The gifted conductor Michael Boder leads orchestras in both opera and concert, and in particular, he has an established reputation for his interpretations of German music.Soloists include Thomas Moser, who dominates the Western operatic world as one of the top tenors; Hans Tschammer, known as one of the most prominent Wagnerian singers in Europe and who displayed his abilities prominently when he sang in the NNTT's production of Das Rheingold; and Gabriele Fontana, who plays an important role in German and Viennese operatic circles.This monumental production will open a new page in the history of the staging of German opera by the NNTT, which always brings together an overwhelmingly splendid cast of singers and production staff to high acclaim.

Synopsis
Two swindlers arrive at Koshikijima, an isolated island south of Kyushu, and call themselves the children of a late local man of prominence. They tell the islanders that they want to revive the shipbuilding business, which once flourished on the island, and start to raise funds with the island's Japanese inn Kamomekan as their base. They had planned to run away with the money, but are unable to do so because of their innately good and weak nature. While they are desperate to escape, the world soon changes as the war breaks out. Because of the enthusiasm of the islanders who do not know that they are being deceived, the shipbuilding business advances steadily, and the two fraudsters become the spiritual support of the islanders, leading them to a situation in which they work hard for the business. At that time, a woman named Yuki who has returned from overseas comes to the island accompanied by her mentally retarded daughter. Okano, the landlord of Kamomekan, apparently knows Yuki's identity. Through the good offices of Okano, Yuki starts to make a living while working for the inn, but…one stormy night, the respective fates of the people on the island begin to roll out.