Liberation for freedom through love
A moving masterpiece whose music eloquently speaks of idealism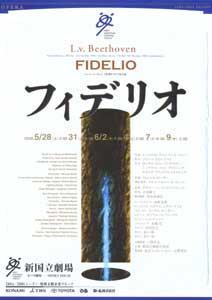 Fidelio is the only opera written by Beethoven, the great master of music.The composer put all his energies into this opera, revising it repeatedly over the nine years after the publication of its first edition.The masterpiece reflects Beethoven's highly idealistic concepts in a straightforward fashion, expressing the ideas of justice, virtue, love and liberation for freedom through music.The magnificent overture, rewritten every time the opera was revised, and the celebrated "Prisoners' chorus" shows his personality, and in the finale consisting of a large choir and orchestral music, the audience will certainly be overwhelmed by the splendid, divine and impressive music.

The stage director will be Marco Arturo Marelli, originally a scenery designer, who is active in major European cities, including Vienna and Salzburg.He will build spiritual spaces on the stage, visualizing Beethoven's music architecturally.The gifted conductor Michael Boder leads orchestras in both opera and concert, and in particular, he has an established reputation for his interpretations of German music.Soloists include Thomas Moser, who dominates the Western operatic world as one of the top tenors; Hans Tschammer, known as one of the most prominent Wagnerian singers in Europe and who displayed his abilities prominently when he sang in the NNTT's production of Das Rheingold; and Gabriele Fontana, who plays an important role in German and Viennese operatic circles.This monumental production will open a new page in the history of the staging of German opera by the NNTT, which always brings together an overwhelmingly splendid cast of singers and production staff to high acclaim.

Synopsis
Don Pizarro, the governor of the prison, has unjustly imprisoned Florestan, his political enemy. In order to rescue Florestan, his wife Leonore disguises herself as a boy and names herself Fidelio, and she waits for a chance to rescue him while working as an assistant to the jailer Rocco. One day, the King's justice minister comes to the prison for inspection. Fearing that his own wrongdoing may be revealed, Pizzaro decides to execute Florestan immediately. When the preparations have been made, Pizzaro appears and tries to stab Florestan, Leonore reveals herself and protects her husband at the risk of her own life. The inspecting minister then arrives. He praises Leonore's courageous act and arrests Pizzaro. Released from imprisonment, Florestan, together with his wife and other people, sings in praise of God's fair judgment and the power of love.