New Comedies by a Wide Variety of Writers Will Burst Forth! A Major Collection of Comedies that Cheer People up Today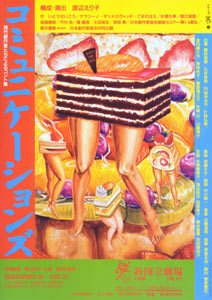 The second in a series about the broad, deep, and mysterious feelings of human beings, whose theme is "laughter," this is a major collection of comedies assembled from various angles, which provide diverse perspectives on communication in modern society.
In this production, which is a joint project with the Japan Playwrights Association, flourishing playwrights will vie with one another with new short stories.Works by young playwrights who recently won a drama award and students who are taking courses in dramaturgy at the Japan Playwrights Association, will also be used.The stage director/playwright Watanabe Eriko, who says enthusiastically, "these are cheering comedies for such depressing times," will organize and direct as a single project a wide repertoire of works ranging from lighthearted to full of black humor, giving the production an unusual flavor.
As soon as you step into the Pit, you will find a strange playhouse that has a retro flavor yet envelops the audience in a feeling of time and space in which the present is blended with the future.Unique actors and actresses will present superb collaborations---this will be the creation of a comedy company.
Look forward to the collection of new yet nostalgic short stories that penetrate to the essence of drama and are replete with laughter, giving energy to people of all ages.