NEW NATIONAL THEATRE BALLET, TOKYO
The Sleeping Beauty
<Ballet in 3 Acts with Prologue and Apotheosis >
OPERA HOUSE
---
STAFF

| | | |
| --- | --- | --- |
| Artistic Director | : | Maki Asami |
| | | |
| Choreography | : | Marius Petipa |
| Music | : | Pyotr Tchaikovsky |
| Revised by | : | Konstantin Sergeyev |
| Staged by | : | Oleg Vinogradov |
| | | |
| Conductor | : | David Garforth |
| Orchestra | : | Tokyo Philharmonic Orchestra |
| | | |
| Designs | : | Simon Virsaladze |
| Lighting | : | Vladimir Loukasevich |
| Stage Manager | : | Osawa Hiroshi (The Stuff) |
| Scenery and costumes executed by | : | Mariinsky Theatre |
| | | |
| Produced by | : | New National Theatre, Tokyo |
---
CAST
Princess Aurora
:
Svetlana Zakharova*

<Bolshoi Theatre> * (29th,1st)

:
Terashima Hiromi

* (30th)

:
Shiga Misae

* (2nd)

:
Matada Kumiko

* (3rd)
Prince Desire
:
Andrei Uvarov

<Bolshoi Theatre> * (29th,1st)

:
Denis Matvienko

(Season Guest Dancer) * (30th,2nd)

:
Yamamoto Ryuji

* (3rd)
*All days

Atsugi Mia / Uchitomi Yoko / Endo Mutsuko / Omori Yuki / Kawamura Maki / Saito Miho / Takahashi Ari / Tsurutani Miho / Terashima Mayumi / Nishikawa Takako / Nishiyama Yuko / Maeda Nina / Miyauchi Mariko / Motojima Miwa / Yukawa Mamiko
Ishii Shiro / Ichikawa Toru / Guennadi Iline / Emoto Taku / Okuda Shinya / Kaikawa Tetsuo/ Kobara Takashi / Chen Xiugie / Tomikawa Yuki / Maylen Tleubaev / Ngase Nobuo / Grigory Barinov / Yoshimoto Yasuhisa

New National Theatre Ballet, Tokyo

*Nina Ananiashvili , who is originally to perform the role of Princess Aurora, is unable to perform. Alternatively, Svetlana Zakharova is taking her place. Please refer to New National Theatre News.
---
PERFORMANCES

2005
April 29
April 30
May 1
May 2
May 3
(Fri.)
(Sat.)
(Son.)
(Mon.)
(Tue.)
2:00
X
X
X
3:00
X
6:30
X

Doors will open 45 minutes before the opening of the performance.
Approximate running time: 3 hours, 40 minutes, with 3 intermission
---
ADVANCE TICKETS

Available from Saturday 19 March, 2005 at 10:00am.
To order tickets, please call +81-3-5352-9999 (10:00am-6:00pm).
Internet ticket reservation available through the following Websites.(Japanese only)
http://t.pia.co.jp/
http://eee.eplus.co.jp/
---
TICKET PRICES (with tax)
| | | | | | | | | | |
| --- | --- | --- | --- | --- | --- | --- | --- | --- | --- |
| Price(yen) | 9,450 | 8,400 | 7,350 | 6,300 | 5,250 | 4,200 | 3,570 | 3,150 | 1,500 |
*Centre balcony row 4 / Side balcony row 3-4 (¥3,150):
Sold at the NNTT Box Office and all Ticket Pia outlets on the performance date only. Up to 2 tickets per person. No phone reservations.
*Seat Z(¥1,500):
Sold to students only at some Ticket Pia outlets on the day before the performance. Any tickets not sold by the performance date will be released to the general public at the NNTT Box Office and some Ticket Pia outlets. One ticket per person. No phone reservations. Students must bring a valid student ID.
*Same day student tickets
(
50% off, except
Centre balcony row 4 & Side balcony row 3-4
)
:
Sold at the NNTT Box Office and some Ticket Pia outlets on the performance date. One ticket per person. No phone reservations. Students must bring a valid student ID.

*Opera House Ticket Prices & Seating Plan
---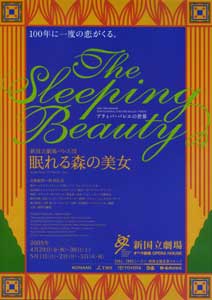 Based on Perrault's widely known fairy tale, The Sleeping Beauty is known for being the largest in scale among the three major ballets by Tchaikovsky.It is unparalleled in the variety of music, as well as the large number of characters and the lavish scenery, costumes, music and choreography.

The story runs from the birth of Princess Aurora to her 100-year sleep and to her happy marriage with the ideal prince and is portrayed with dancing resembling a gorgeously colored ballet picture scroll.It is a masterpiece with dignity and stylistic beauty that makes it deserve to be called the high-water mark of 19th-century Russian ballet which flourished around Petipa.

The Sleeping Beauty was first performed at the NNTT as part of the program to celebrate the grand opening of the theatre in the autumn of 1997, and its luxurious and splendid performance graced the inauguration of the theater.It has been well received every time it has been staged, and this season marks its fourth performance.Befitting the Golden Week holidays, four distinguished dancers, including a guest dancer from the Bolshoi Theatre, will dance as Princess Aurora, vying with one another in splendor.Supporting the beautiful Princess Aurora, the New National Theatre Ballet, which was honored with the Fourth Asahi Performing Arts Award, will deliver The Sleeping Beauty to you with all its heart.Please enjoy the charm of grand ballet to the fullest.
Synopsis
The curtain rises on the scene of the christening ceremony to celebrate the birth of a princess.As fairies bestow their blessings on Princess Aurora one after another, the wicked fairy Carabosse, who is enraged that she was not invited to the ceremony, places a curse upon Aurora that she will one day prick her finger on the needle of a spinning wheel and die.And on her 16th birthday, Aurora does indeed do just that and fades away.One hundred years later, when a prince, led by the Lilac Fairy, kisses the sleeping Aurora, the curse is immediately broken and Princess Aurora awakens.A grand wedding ceremony is held for the prince and the princess.


Princess Aurora

Svetlana Zakharova*
<Bolshoi Theatre>


Terashima Hiromi

Shiga Misae

Matada Kumiko
Prince Désiré
Andrei Uvarov
<Bolshoi Theatre>
Denis Matvienko
(Season Guest Dancer)

Prince Désiré

Yamamoto Ryuji