Contemporary Dance / Dance Planet No.17

TANAKA MIN:
Solo Dance "Shakko (Crimson Light)"

THE PIT
---
STAFF & CAST

Choreographed and
performed by
:
Tanaka Min
Ootudumi (Big Hand Drum)
:
Okura Syonosuke
Nohkan(Flute)
:
Issou Yukihiro
Libretto and Calligraphy
:
Matsuoka Seigou
Original Libretto by Saito Mokichi "SYAKKO"
Costumes
:
Yamaguchi Genbee(Kondaya)
Scenery Adviser
:
Suzuki Keishi
Lighting Design
:
Tanaka Ami
Sound Design
:
Aikawa Akira
Stage Manager
:
Gotou Yasunori
Cooperation
:
Renshirensyu-kai, Tokason (The Plum Arcadia), Buyoushigen kenkyujo
Artistic Director
:
Maki Asami
Production Director
:
Miki Youko
Sponsored by
:
Kirin_Brewery_Co.,Ltd.
Produced by
:
New National Theatre, Tokyo
---
PERFORMANCES

June 2005
3
(Fri.)
4
(Sat.)
5
(Sun.)
19:00
19:00
19:00

Doors will open 30 minutes before the opening of the performance.
Approximate running time: 1 hour, 30 minutes
---
ADVANCE TICKETS

Available from Wednesday 20 April , 2005 at 10:00am.
To order tickets, please call +81-3-5352-9999 (10:00am-6:00pm).
Internet ticket reservation available through the following Websites.(Japanese only)
http://t.pia.co.jp/
http://eee.eplus.co.jp/
---
TICKET PRICES (with tax)

| Type | Seat A | Seat B |
| --- | --- | --- |
| Price(yen) | 5.250 | 3.150 |

| | |
| --- | --- |
| Seat Z (¥1,500) / Same day student tickets (50% off) is sold only on the performance day at the Box Office and a part of Ticket Pia Offices. | |
---
The crimson light of the setting sun Fills the air.
The flower field looks distant and dim, Melting into the light.
From "Shakko", a collection of Saito Mokichi's tanka poems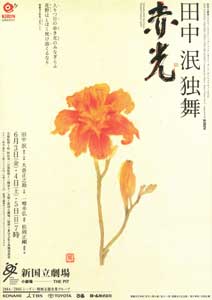 Starting out in contemporary dance, dancer Tanaka Min has developed his own body expression. Amidst broadening his sphere of activity from solo performances to presentations of choreographies to appearance in movies as an actor, Tanaka will present solo dance based on Shakko, a collection of tanka poems by Saito Mokichi. Saito occupies an important position in the history of modern tanka poetry. Known for his deep affection towards his hometown, after coming to Tokyo he produced many excellent tanka poems while living a busy life as a psychiatrist. Shakko is Saito's first collection of tanka poems published in 1913. His poetry in this collection, including a series of poems entitled "Shinitamau Haha (The mother died)" and "Ohiro," which sings the inner life of a human being through casual descriptions of nature, is full of vitality and moves the reader's heart. While active in the global arena, Tanaka has constantly looked deep into himself and considered tradition in its profound sense important. What is tradition for those who live today? This is one of the questions he asks in this work. Tanaka will dance Shakko using the space of the NNTT's Pit to its fullest, drawing upon the power from artists who embody tradition in their respective fields, such as the taiko drum, flute and calligraphy. This performance must not be missed.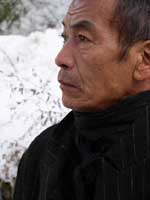 Tanaka Min
Born in Tokyo in 1945. Seeking to merge avant-gardism with tradition, Tanaka is active in various areas, including dance, opera, drama, art exhibitions and film, in Japan and abroad. In Kai City, Yamanashi Prefecture, he runs Dance Resources on Earth, a research organization, and Tokason, a dance troupe and agricultural cooperative society. He has published a large number of works, including the international joint productions, An end-of-20th-century Version of The Rite of Spring (with Russian dancers) and Mori no Bisho (The smile of woods) (with dancers from various countries). In November to December of last year, he performed solo dance in Indonesia.
Okura Syonosuke
Born in KobeCity in 1955.Okura is a hand drum player of the Okura school of Noh musical accompanists and is certified as a holder of important intangible cultural assets.As the eldest son of the late Okura Chojuro, the 15th head of the Okura school, he has established his reputation as an unparalleled drum soloist and sticks to beating the drum with bare hands, an art of extreme difficulty.He has performed for ceremonies and special events in various countries worldwide.Okura is widely covered by mass media, and recently released compact disks of his performances, including one entitled Hiten.
Issou Yukihiro
Born in Tokyo in 1964.Isso is a flautist of the Issou school of Noh musical accompanists.He is also active in giving improvised performances.His powerful performance easily incorporates classical and contemporary music, making Issou a promising flute player with unlimited potential.He presides over the group named Ohiyari, which gives flute concerts.His major works include Tokyo Daruma Gaeru and Riyari.
Matsuoka Seigou
Born in Kyoto in 1944.Matsuoka is the director of the Editorial Engineering Laboratory and the headmaster of the ISIS editorial school.He established his unique methodical view of the world as "editorial engineering" and is active in a wide range of fields from science to art to Japanese culture.His principal writings include Kacho Fugetsu no Kagaku (The science of the beauties of nature), Nihonryu (Japanese style), Nihon Suki (refined Japanese taste), Sansui Shiso (The idea of landscapes) and Yugaku (Studying far away from home).