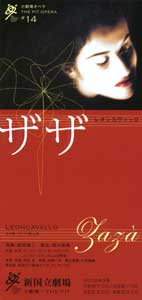 The actress Zazą, who lived for love, reached a conclusion… Zazą is a verismo opera by Leoncavallo, the Italian composer famous for his opera I Pagliacci (The Clowns). Based on a French play, the composer himself wrote the libretto. Premiered in 1990, the opera became a great hit. It portrays how the popular actress Zazą loved a married man but broke off relations with him in agony. Two up-and-coming sopranos will take on the challenge of singing the title role, which requires exceptional talent both as a singer and an actress.
Synopsis
Cascart, Zazą's former lover and fellow actor, visits the popular actress in her dressing room. After being praised by the theatre manager Courtois and the regular theatergoer Milio, she goes onto the stage. Milio, seduced by Zazą in her dressing room, kisses her passionately. Zazą soon starts to live with Milio, but having heard from Cascart that Milio has a girlfriend in Paris, she goes there to find he has a family. When she sees Toto, Milio's infant daughter, she loses control of herself and breaks into tears and runs away. When she tells Milio that she has met his wife, he becomes infuriated. Having witnessed his fury, she turns him away and throws herself down in tears.