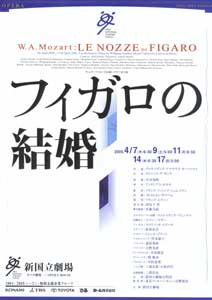 Directed by Andreas Homoki, who is in the forefront of contemporary opera circles, Le Nozze di Figaro (The Marriage of Figaro) showed a new direction at the New National Theatre, Tokyo. Its production, which gave rise to such lively discussions that "Did you see Figaro?" even became a common opening phrase of conversations, will return to the NNTT.
Le Nozze di Figaro is the most popular of Mozart's works. As various characters appear one after another, the opera vividly depicts the dazzling fabric of relationships among these people. It is full of the finest music, including the bubbling, delightful overture, celebrated arias such as Voi Che Sapete (You who know) and Non Più Andrai (No more will you go) and the overwhelming ensemble that adorns the finale. In directing this immortal masterpiece, Homoki hammered out the concept of the "collapse of order" and created a major flow of drama in which, beyond the class struggle, the characters eventually revealed their true selves, leading to a confrontation between various types of personalities. In the first performance of this opera at the NNTT, an ensemble of characters trying to get the better of one another while acting backed by detailed interpretations achieved a high level of perfection. The NNTT premiere was much talked about because the performance of the opera could be enjoyed not just by opera fans but also by drama fans.
In the forthcoming repeat production, Wolfgang Brendel, who sang Macbeth with his overwhelming voice in May 2004, will appear again as Count Almaviva. The Countess will be sung by Emily Magee, who is active in the first line in Europe with Berlin as her base. In addition to those who appear at the NNTT for the first time, including Maurizio Muraro as Figaro and Matsubara Yuna as Susanna, a beefed-up ensemble of singers who displayed strong acting skills in the premiere will support the leading roles. Do not miss the NNTT's proud performance of Le Nozze di Figaro at its best!
Synopsis
A former barber and now a servant of Count Almaviva, Figaro is going to marry Susanna, a servant of the Countess. Although the Count has already given up the right of the first night (the lord's right to share the first marriage night with his servant's bride in place of the servant), the Count, who fancies Susanna, intends to reclaim the right. The Countess laments that her husband's love for her is cooling. Therefore, the Countess, Figaro and Susanna all conspire to outwit the Count. They use Susanna's clothes to disguise Cherubino, a page at puberty, as a woman and try to lure out the Count·····