Contemporary Dance Dance Theatron No.12

KAZAHANA

PLAYHOUSE
---
<STAFF>

Set, Costume and Lighting Designer,
Director and Choreography
: Teshigawara Saburo
Music Advisor, and Assistant Director
: Miyata Kei
Original Music and Sound Designer
: Neil Griffiths
Associate Lighting Designer
: Sergio Pessanha
Stage Manager
: Jörn Fenske / Shibazaki Dai
Artistic Director
: Maki Asami
Production Director
: Miki Yoko
Sponsor
: Kirin_Brewery_Co.,Ltd.
Presenter
: New National Theatre, Tokyo
---
<CAST>

| | | |
| --- | --- | --- |
| Miyata Kei | Sato Rihoko | Yoshida Azusa |
| Ohno Chisato | Isabelle Chaffaud | Brice Desault |
| Bruno Péré | Christophe Dozzi | Jose Tirado |
| Vaclav Kuñes | Junaid Jemal Sendi | |
---
<PERFORMANCES>

| February 2005 | 4 (Fri.) | 5 (sat.) | 6 (sun.) |
| --- | --- | --- | --- |
| 2:00pm | | | × |
| 6:00pm | | × | |
| 7:00pm | × | | |

Doors will open 45 minutes before the opening of the performance.
Approximate running time: 1 hour, 30 minutes
---
<ADVANCE TICKETS >

Available from 10:00a.m., Sunday, December 12, 2004
New National Theatre Tokyo Box Office: +81-3-5352-9999(10:00am-6:00pm)
Internet ticket reservation available through the following Websites.(Japanese only)
http://t.pia.co.jp/
http://eee.eplus.co.jp/
---
<TICKET PRICES (with tax) >

| Type | Seat S | Seat A | Seat B |
| --- | --- | --- | --- |
| Price | ¥ 6,300 | ¥ 5,250 | ¥ 3,150 |

Seat Z(¥1,500) / Same day student tickets (50% off) is sold only on the performance day at the Box Office and a part of Ticket Pia Offices.
---
Teshigawara Saburo will present his new work KAZAHANA, from Japan to the rest of the world. The dance is sure to impress viewers with its body expression brimming with finely honed senses, surprise and unexpectedness. Once again it is the Playhouse that brings the audience the performance that the world has been eagerly looking forward to.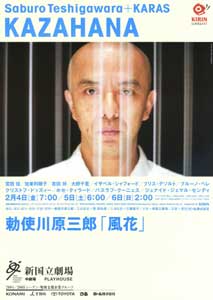 Kazahana means "snowflakes fluttering with the wind in the blue sky." This is a word and also an image that makes one feel something extraordinary or a supreme moment. There is a moment when the chaotic world is swept away. Nobody knows when such a moment comes. KAZAHANA highlights forms and formless dance created by transient beauty and ultimate strength.
Life never stops, as it blends with the universe around it. Life has an infinite relationship of cooperation with the environment. It is the endless coming and going of energy.
There is a moment when life that never stops (cannot stop) seems to stop momentarily.
Teshigawara Saburo
Production KARAS/Miyata Kei

coproduction : Lille 2004 - European Capital of Culture / Lille Opera LILLE 2004
KAZAHANA was first performed at France's Opéra de Lille on May 28 and 29, 2004. The forthcoming production is the premiere of its revised version.

KAZAHANA
photo:Ravi Deepres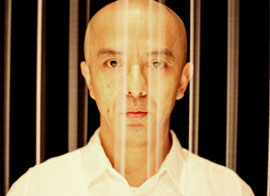 Teshigawara Saburo
photo:Ravi Deepres
Set, Costume and Lighting Designer,
Directer and Choreography
Teshigawara Saburo
Dancer, choreographer and stage director. He established the KARAS theatre company with Miyata Kei in 1985. He won a prize at an international dancing and choreography competition in France in 1986. By taking a completely new direction, which was neither an imitation of Western art nor the taking over of traditional Japanese dancing, he suddenly attracted the attention of European dancing circles. Since then, together with his theatre company, he has been invited to perform at theatres and international art festivals in major European and North American cities each year. His relentless pursuit of artistic beauty as well as unparalleled dancing abilities have won the highest praise and support, exerting tremendous influences on the dancing world. In recent years, he has been invited by prominent European ballet, such as Frankfurt Ballet and Netherlands Dance Theater˜T, to create many new works that have become part of their repertoire. As exemplified by film and video productions, by collaborations with musicians and other artists as well as by educational projects targeted at youths, a wide range of his artistic activities and a high level of his theatrical expression are highly rated throughout the world. His important works are Ishi no Hana, NOIJECT, Absolute Zero and Luminous(Asahi Performing Arts Award). In 2000, Raj Packet-everything but Ravi (performed at NNTT) won both the Dance Critics Society Award and the Nimura Dance Award, and in 2002 he received Asahi Performing Arts Award again for his performance Raj Packet 2. In 2003, he became the first Japanese to choreograph AIR, winning the highest praises at the Paris Opera Ballet, putting him at the forefront of the world's dance scene.