Beyond the labyrinth that always eludes attempts to reach it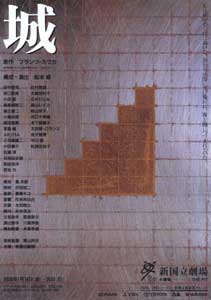 Franz Kafka (1883-1924), a giant in 20th-century literature, who is famed for Die Verwandlung (The Metamorphosis) and other short stories, left behind three unfinished novels and asked a friend to burn them to avoid publication after his death. However, these works were published by the friend after the Kafka's death, and quickly their diverse literary elements gave rise to a wide variety of interpretations, attracting public attention from all angles, including philosophy, religious studies, and psychology.
Das Schloss (The Castle), Kafka's last novel, is a story in which the protagonist K, who arrives at a village controlled by the castle, encounters absurd events and gradually becomes exhausted. K is inevitably thrown into a mysterious world from the outset and makes a assiduous effort to unravel the mystery that he encounters. But his efforts are not rewarded at all, and he is swallowed up by something wildly unreasonable and illogical. He is blocked by a massive but invisible bureaucratic structure that cannot be managed with his own power, and his will and feelings are not accepted at all. This world of absurdity will certainly arouse the sympathy of people today who are exposed to the incomprehensible real world. The Czech novelist provides hints to his readers and perplexes them, but does not provide answers. This method of Kafka's is replete with highly theatrical fun and is deeply tinged with a mysterious charm, which invites the readers to venture beyond the labyrinth. A stage performance of this novel will be given under the direction of Matsumoto Osamu featuring his special method of eliciting new allure from individual actors and actresses, while holding workshops repeatedly over a long period of time. Matsumoto won acclaim for his adaptation of Kafka's long novel Der Verschollene (Missing) for stage under the title Amerika. Performances choreographed by Ide Shigeta, which are found in almost every scene of the play, skillfully express the humor of the work as well as its distortions. Full of a playful spirit, this is truly a culmination of contemporary drama.
Synopsis
K arrives at a village covered with heavy snow and blurts out spontaneously, "I am a surveyor and am invited by the Castle." Although he tries to reach the Castle in various ways, he is kept in the village and is unable to reach it by any means. Once he decides to start living in the village for a while, he becomes surrounded by various unique villagers. He is made a fool of by the village chief, the archetype of a petty official, and is followed around by two men who look exactly alike and call themselves K's assistants. Eventually, K ends up living together with a woman who is an official 's lover and works at a tavern, and mysterious people appear and disappear one after another. The massive but invisible bureaucratic machine named the "castle" blocks K's path and he is continually toyed with by strange people.
Can K really reach the mystery-shrouded castle?

| | | | |
| --- | --- | --- | --- |
| | | | |
| Tanaka Tetsushi | Sakaguchi Yoshisada | Manako Keiji | Oda Yutaka |
| | | | | |
| --- | --- | --- | --- | --- |
| | | | | |
| Ishimura Mika | Osaki Yuriko | Ishii Hitomi | Hayama Reiko | Matsuura Sachiko |