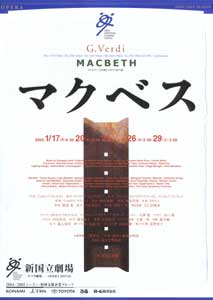 The stage director Noda Hideki, who is at the forefront of contemporary drama, is directing his first opera. His staging of
Macbeth
, which was prepared over a long period of time and displays his brilliant interpretation of the play, attracted keen attention from various circles and will soon be repeated.
Macbeth is the first Shakespearean play Verdi successfully adapted for opera. It is a monumental work in that he transcends the framework of traditional operatic forms, opening up a new path for opera as drama. Replete with music as gloomy and dramatically tense as the play written by Shakespeare, Macbeth is a serious work that profoundly portrays the personalities of Macbeth and his wife, who are both impelled by prophecies, ambitions, suspicions, and intrigues and driven into derangement and extreme emotions.
Noda's direction views the witches who prophesy the fate of Macbeth as the dead in the battlefield, and focuses on Macbeth, who cannot shake off his obsession with power, though he is frightened by the shadows of the dead hidden by prosperity. Noda develops the drama quickly with persuasiveness appropriate to the present circumstances where power is employed in the cause of liberation. The highlight of the play is the solemn and fantastic world created by crowds on the stage. Macbeth will be sung by Carlos Álvarez, a star baritone who has swept through the world's distinguished opera houses, including the Teatro alla Scala, and Lady Macbeth by Georgina Lukács. Both singers will lend exciting color to the tense drama over the crown.

Synopsis
The setting is 11th-century Scotland. In the woods, Macbeth and Banquo hear witches predict that Macbeth shall be King of Scotland and that Banquo shall be the father of kings. Persuaded by his ambitious wife, Macbeth murders Scottish King and is named King, but worrying about the prophecy on Banquo, he also plots to kill Banquo and his son. Banquo's son escapes and Macbeth is deranged by images of the dead. Meanwhile, together with Malcolm, son of the assassinated king, Macduff rises in revolt against Macbeth.