Contemporary Dance Dance Planet No.16

The Rule of Transfer

THE PIT
---
<STAFF>

| | |
| --- | --- |
| Written and Directed by | : MIZUTO_ABURA |
| | |
| Artistic Director | : Maki Asami |
| Production Director | : Miki Yoko |
| Lighting Designer | : Isono Shinya |
| Sound Designer | : Ito Syouji |
| Stage Manager | : Okawa Hiroshi |
| Sponsored by | : Kirin_Brewery_Co.,Ltd. |
| Presented by | : New National Theatre, Tokyo |
---
<CAST>

Performance Theater MIZUTO_ABURA

Junjun Momokon Onoderan Sugapon

---
<PERFORMANCES>

| February 2005 | 18(Fri.) | 19(sat.) | 20(sun.) |
| --- | --- | --- | --- |
| 1:00pm | | | × |
| 2:00pm | | × | |
| 5:00pm | | | × |
| 6:00pm | | × | |
| 7:00pm | × | | |

Doors will open 30 minutes before the opening of the performance.
Approximate running time: 1 hour, 10 minutes
---
<ADVANCE TICKETS >

Available from 10:00a.m., Sunday, December 12, 2004
New National Theatre Tokyo Box Office: +81-3-5352-9999(10:00am-6:00pm)
Internet ticket reservation available through the following Websites.(Japanese only)
http://t.pia.co.jp/
http://eee.eplus.co.jp/
---
<TICKET PRICES (with tax) >

| Type | Seat A | Seat B |
| --- | --- | --- |
| Price | ¥ 5,250 | ¥ 3,150 |
---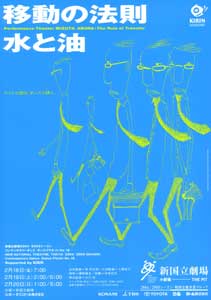 Speaking through mime, attracting through dance
The theatre company Mizuto Abura is continuing to grow rapidly by offering its unique performances which combine mime with dance. The company, which is garnering attention throughout the world for its outstanding sensitivity and originality, has released a new work.

You buy a new pair of shoes because the previous pair has broken.
As soon as you put on the new pair of shoes, you find yourself in a town you have never visited.
Since it would be a problem to continue walking with the shoes on, you take them.
But you remain in the same place. You take off your jacket.
You then find yourself surrounded by white walls.
Upon opening a door, you find a workshop.
After putting on a white robe you enter the workshop.
(From the starting point of the image)

When the situation that the people in the dance are placed in changes, their viewpoints and the world they are in also change in turn. We see these transformations and feel a sense of precariousness. What are these worlds the characters are regarding? The Rule of Transfer demonstrates how different the world looks to each particular individual, and it is these individuals, who are swimming within the differences of their own consciousness, who emerge as the centerpiece of this work. We hope that you will have the chance to see Mizuto Abura's new work.
Performance Theater MIZUTO_ABURA

The performing company Mizuto Abura (Water and Oil) was formed by Takahashi Jun, Fujita Momoko and Onodera Shuji in 1995. In 1998, Suga Reina joined the company, thus forming the current quartet. Highly original performances in which the company explores the possibilities of phyical expression and spin a surrealistic world without words have won high praise; not only in Japan but in the rest of the world as well. In 2000, the theatre company participated in the Avignon Festival OFF and the Edinburgh Festival Fringe. The group was also nominated for the Total Theatre Award 2000. Mizuto Abura won the Best Production Award at the Tokyo Millennium Arts Festival in 2000 for its Cellophane Singular, and in 2001 it received the Herald Angel Award at the Edinburgh Festival Fringe for its performance of Cellophane Singular. In January 2003, the company received both the Terayama Shuji Award and the Kirin Dance Support Award for the Second Asahi Performing Arts Awards sponsored by Asahi Shimbun. The former award is given to new, promising, and powerful individuals and groups.





Mizuto Abura's major works include Cellophane Singular, Soup, Fujichaku (unscheduled landing), 4 × 4, Schedule, and Kyukoka (Nosedive).

Performance Theater MIZUTO_ABURA




[4 × 4]
(2003:New National Theatre, Tokyo)