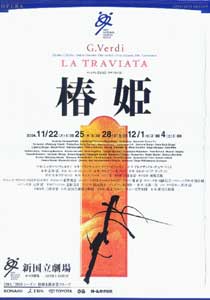 La Traviata is a masterpiece of Italian opera and boasts indisputable popularity. A touching story of a heroine becoming aware of true love, giving up her short-lived happiness and finally dying, continues to draw tears from audiences worldwide. The Brindisi (drinking song) sung in Act I's soiree scene is so famous that the flamboyant music is indispensable in the program of gala concerts. La Traviata could be said to be an extremely modern opera in which celebrated sweet arias express the delicate feelings of the characters. Examples include E strano!団 Ah, fors'e lui団 (It's strange団Was this the man団?), sung by Violetta, who is moved by Alfredo's sincere love; Di Provenza il mar, il suol (The sea and soil of Provence) by Germont, who persuades his son to leave his lover; and Parigi, o cara (We'll leave Paris, my dearest), a duet by Violetta, who is going to die, and Alfredo.
La Traviata, directed by maestro Ronconi, which adorned the opening of the NNTT's 2002/2003 season, was an intelligent performance that pursued the elegant yet profound psychological representation of the characters' feelings. The high-profile new star Marina Vyskvorkina, who is spoken of as successor to Edita Gruberova, will sing Violetta, a difficult role that requires coloratura techniques, dramatic voice and the ability to express exquisite feelings. Expectations are also placed on Sano Shigehiro as Alfredo, who has gained enormous popularity for his brilliant voice. This and more is focusing attention on the forthcoming performance of the operatic gem.

Synopsis
Violetta, a courtesan in Paris, opens her heart to Alfredo, a son of a wealthy man, though she is hesitant to accept his sincere courtship. They begin to enjoy each other's company living together in the suburbs of the city. One day during Alfredo's absence, his father Germont calls on Violetta to ask her to give up his son so that marriage arrangements for his daughter will proceed smoothly. Violetta decides to abandon her love and leaves Alfredo. After her return to Paris, Alfredo appears in front of her and accuses her of her betrayal in the presence of other people. Time passes, but it is too late when all misunderstandings have come to light. Sick in bed, Violetta dies as she is embraced by the love of Alfredo, who asks for her pardon.