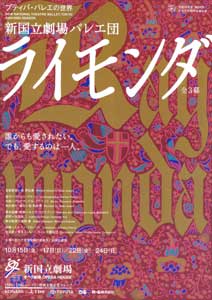 The season opener is Raymonda, Petipa's last true masterpiece. It is a summation of Russian classical ballet established by the French-Russian choreographer though its complete version is rarely performed today even by world standards. Each act is full of variations displaying the essence of ballet techniques, and the second act is characterized by powerful dance scenes filled with exotic charm. The highlight of the ballet is the final act's grand pas which skillfully combines classical and character dance.
The NNTT will present its original version of Raymonda based on the revised choreography and direction by Artistic Director Maki Asami herself. In the forthcoming new production, Luisa Spinatelli was asked to design the scenery and costumes, which will be a central factor in allowing the story to unfold as if it were a fairy tale. Maki's direction does not necessarily view Abderkrakhman as Raymonda's adversary, but depicts the work as a universal love story between a man and a woman that can happen in any age. Even people today will be able to appreciate the drama woven by the characters in the ballet.
The New National Theatre Ballet, together with the wonderful guest dancers, will give a delicate and splendid performance of this original version of Raymonda. The NNTT is looking forward to seeing you at the season's first performance.

Synopsis
The setting is medieval France. Raymonda, a niece of a countess, is waiting for the return of her lover Jean de Brienne, who joined the Crusade. The Saracen knight Abderkrakhman is also fascinated by the beautiful noblewoman and attempts to abduct her, dueling with Jean who has just returned home. The victorious Jean is permitted by the countess to marry Raymonda, and the two lovers are united in a grand wedding ceremony.
Raymonda

Svetlana Zakharova

Yoshida Miyako

Terashima Hiromi

Shiga Misae

Jean de Brienne

Andrei Uvarov

Ethan Stiefel

Morita Kentaro

Yamamoto Ryuji
Abderrakhman

Robert Tewsley

Ilgiz Galimullin