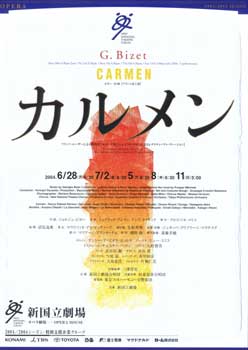 Carmen-the Worldfs Most Famous Opera
Nancy Fabiois Herrera, One of a New Generation of Carmen Singers, Will Appear in the Title Role of Passion and Devilishness
Carmen heads the list of popular operas and is so famous that it has become a synonym for opera. Well-known songs, including Lfamour est un oiseau rebelle (Habanera) (Love is like a rebellious bird), Votre toast je peux vous le rendre (Toreador march) (I can return your toast) and La fleur que tu mfavais jetée (Flower Song) (The flower which you threw me), which everybody has heard at least once, appear one after another, making every single scene a highlight of the opera. Based on Prosper Mériméefs novel, Carmen portrays a love-hate relationship between a man and a woman, and its exotic music reminds one of Spanish passion. The dramatic opera unfolds at a breathtaking speed.
The director, Di Mttia, uses strong contrasts of light and shade and striking dance scenes to impress the fateful tragedy on the audience. The title role will be sung by Nancy F. Herrera, a native of Spain, who made her first appearances in her signatory role of Carmen in Florence, Verona and Rome. Don José and Escamillo will be played by the young singers, Hugh Smith and Chester Patton, respectively, both of whom have been sweeping across Europe. And with her beautiful voice that overflows with emotion, Omura Hiromi, who studied in France and the year before last suddenly made her debut in Japan as Violetta in La Traviata, will take on the challenge of singing as Micaëla. Expectations also grow for the NNTT debut by Numajiri Ryusuke, who has attracted public attention as an opera conductor with his conducting of the Tokyo Philharmonicfs Opera Concertante series and the Japan premiere last year of the three-act version of Lulu.
Synopsis
A cigarette factory girl, Carmen, admired by men of the town, takes an interest in Don Jose, who is indifferent to her, and seeks to win his attention by tossing him a rose. Although he loves Micaëla, he soon becomes captivated by Carmen and is persuaded to desert the Army and throw in his lot with smugglers. But Carmen becomes disillusioned with Jose and gives her heart to the toreador Escamillo. In front of the bullring, from which loud cheering can be heard, José, consumed by jealous rage, stabs Carmen in the heart.