The Sleeping Beauty
Ballet in 3 Acts with Prologue and Apotheosis
OPERA HOUSE
---
<STAFF>

| | |
| --- | --- |
| Artistic Director | : Maki Asami |
| Choreography | : Marius Petipa |
| Music | : Pyotr Tchaikovsky |
| Revised by | : Konstantin Sergeyev |
| Staged by | : Oleg Vinogradov |
| Conductor | : Boris Gruzin |
| Orchestra | : Tokyo Philharmonic Orchestra |
| Designs | : Simon Virsaladze |
| Lighting | : Vladimir Lukasevich |
| Stage Manager | : Osawa Hiroshi (The Stuff) |
| Scenery and costumes executed by | : Mariinsky Theatre |
---
<CAST>

June
2004

Friday
4

Saturday
5

Sunday
6

Saturday
12

Sunday
13

Princess Aurora

Svetlana
Zakharova

Sakai
Hana

Svetlana
Zakharova

Atsugi
Mia

Saito
Miho

Prince Désiré

Igor
Zelensky

Yamamoto
Ryuji

Igor
Zelensky

Henmi
Tomohiko

Denis
Matvienko

Massimo Acri, Endo Mutsuko, Omori Yuki, Takahashi Ari, Terashima Hiromi, Nishikawa Takako, Nishiyama Yuko, Maeda Nina, Matada Kumiko, Motojima Miwa, Yukawa Mamiko, Ichikawa Toru, Guennadi Iline, Emoto Taku, Okuda Shinya, Chen Xiujie, Tomikawa Yuki, Mailen Tleoubaev, Grigory Barinov, Yoshimoto Yasuhisa
New National Theatre Ballet, Tokyo
---
<PERFORMANCES>

June 2004
Friday
4
Saturday
5
Sunday
6
Saturday
12
Sunday
13
2:00pm
X
X
5:00pm
X
X
6:30pm
X

Doors will open 60 minutes before the opening of performance.
Approximate running time: 3 hours, 45 minutes with 3 intermissions
---
<ADVANCE TICKETS>
Available from Thursday 29 April, 2004 at 10:00am.
To order tickets, please call +81-3-5352-9999 (10:00am-6:00pm)
---
<TICKET PRICES>

| | | | | |
| --- | --- | --- | --- | --- |
| Type | Seat S | Seat A | Seat B | Seat C |
| Price | ¥9,450 | ¥6,300 | ¥4,200 | ¥3,150 |

Seat Z(¥1,500) is sold only on the performance day at the Box Office and exclusive Ticket Pia Offices.

The performance on 5 June is "McDonald Special Night", supported by McDonald's Co. (Japan), Ltd.
All seats will be available in a half price (including tax)


| | | | | | | |
| --- | --- | --- | --- | --- | --- | --- |
| Seat S: ¥4,725 | | Seat A: ¥3,150 | | Seat B: ¥2,100 | | Seat C: ¥1,575 |

Tickets will be sold at the Box Office and Ticket Pia Offices only.
Any discount will not be offered due to the special prices of the night, but Seat Z (¥1,500) is sold as usual performances.
---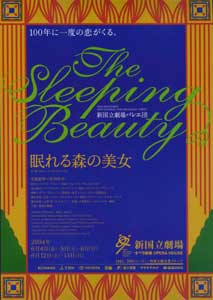 The brillain end to the NNTT's 2003/2004 season is the ballet The Sleeping Beauty. Among Tchaikovsky's three major ballet scores, The Sleeping Beauty is known as the largest in scale. It is a masterpiece with the dignity and stylized beauty that one expects from a work acclaimed as the high-water mark of 19th-century Russian ballet, which flourished at the time around the choreographer Marius Petipa. The ballet is unparalleled in terms of the large number of characters that appear and the dazzling stage setting and dancing. The ballet was first performed at the NNTT in the fall of 1997 as part of a program celebrating its grand opening. This will be the first production of The Sleeping Beauty in three years following its restaging in 2001, and will feature four pairs of dancers for the leading roles, including some who are making their debut. Enjoy the ultimate charm of grand ballet with the NNTT's The Sleeping Beauty.
Synopsis
The curtain rises on the scene of a christening ceremony to celebrate the birth of a princess. Fairies bestow their blessings on Princess Aurora one after another but are interrupted by the arrival of the evil witch Carabosse, who is enraged that the king did not invite her to the ceremony. Carabosse places a curse upon Aurora so that she will one day prick her finger on the spindle of a spinning wheel and die. On the occasion of her 16th birthday, Aurora, who has grown to be a shining beauty, is tricked by Carabosse, who has disguised herself as an old woman, and pricks her finger with a needle and fades away. The Lilac Fairy appears in front of the guests who are in deep grief and casts another spell on the sleeping princess to mitigate the curse, saying, "She is not dead but is just sleeping." A hundred years later, when a prince, led by the Lilac Fairy, kisses the sleeping Aurora, the curse is immediately broken and Princess Aurora awakes. A grand wedding ceremony is held for the prince and the princess, and the two live happily ever after.