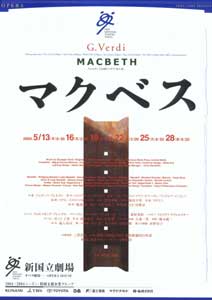 Noda Hideki Launches into Opera, Sheds Light on the Depths of the Magical Powers That Grip Macbeth
The stage director Noda Hideki is at the forefront of contemporary drama. He garnered overwhelming support from the public with his theatrical company Yume no Yuminsha, and after disbanding the troupe and studying abroad, he came back again to create new works with his theatrical company NODA MAP. In recent years, he has continuously expanded his sphere of activity as exemplified by his staging of one-man plays and his full-scale British debut with the play RED DEMON performed by a multinational cast, as well as his new kabuki plays Noda-ban Togitatsu no Utare (Noda Version of Togitatsu as the Target of Vengeance) and Noda-ban Nezumi Kozo (Noda Version of Robin Hood), both of which were staged at the Kabuki-za theatre. With Noda-ban Togitatsu no Utare, Noda won the grand prize at the First Asahi Performing Arts Awards. In the forthcoming production of Macbeth, the theatrical genius will finally take on the challenge of directing opera.
Macbeth is the first Shakespearean play Verdi successfully adapted for opera. In his early years, the Italian composer produced a series of great works, including Nabucco (Nebuchadnezzar), which inspired the patriotic spirit of his fellow countrymen, and Macbeth is a monumental work from this period in that he transcended the framework of traditional operatic forms and opened up a new path of opera as dramatic theatre. Filled with music as gloomy and dramatically tense as the original play written by Shakespeare, Macbeth is a serious work that portrays in depth the psychology of Macbeth and his wife, who are both driven to derangement and the extremes of humanity at the behest of prophecies, ambition, suspicions and intrigue.
Noda's direction characteristically has a unique sense of momentum and boasts numerous original set designs and dramatic ideas, yet on the other hand, it is also imbued with his constant attempt to express the human soul's cry through the ages. How will he depict the fate of Macbeth, who is spooked by the ghost of the dead that haunts and ultimately ruins him? The collaboration between the powerful cast of singers, including Wolfgang Brendel in the title role, and the production staff, will open a new door for opera.
<Synopsis>
The setting is 11th century Scotland. In the woods, Macbeth and his fellow general Banquo hear witches predict that Macbeth shall be King of Scotland and that Banquo shall be father of kings. Persuaded by his ambitious wife, Macbeth murders Scottish King Duncan and is named the new King of Scotland, but worried about the prophecy concerning Banquo, he plots to kill his comrade-in-arms as well as his son. Banquo's sun escapes and Macbeth is haunted by visions of the dead. Meanwhile, together with Malcolm, son of the assassinated Duncan, Macduff rises in revolt against Macbeth