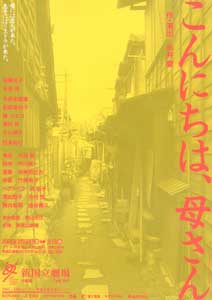 Do we really understand those closest to us? What if people who have avoided talking to each other about what they truly think start to speak to each other face to face?
The action takes place in a shopping district that retains a strong flavor of the older quarters of Tokyo. Kanzaki Akio returns to his parents' home located somewhere in this district. For Akio, who has recently been unable to get along well with people either at work or at home, his parents' house in Asakusa, where he was born and raised, is the only place he can feel comfortable in. However, his mother Fukue, who has been enjoying life alone to the fullest since his father passed away, seems to be annoyed at his sudden return. Rather than comforting heart-broken Akio, she ridicules his failed marriage and devotes all her time to her hobbies, study and volunteer activities. She looks completely different from whom she use to be…
Konnichiwa Kasan (Hello, Mummy), which was honored with numerous awards in 2001, will take the stage at the NNTT once again. Under the concept of "Presenting dramas where one meets again people who one should know well," the play was first performed to convey a warning that modern people often fall into a lack of communication with each other. In its premiere, set in a traditional working-class neighborhood of Tokyo, mother and son, played by Kato Haruko and Hirata Mitsuru respectively, as well as a number of troubled persons with marked personalities around them, developed a story of laughter and tears, becoming the center of conversation in theatrical circles at the time. With enthusiastic fans looking forward to a repeat production, the NNTT will restage it this time at the Pit and subsequently at various locations nationwide, a first for an NNTT theater program.