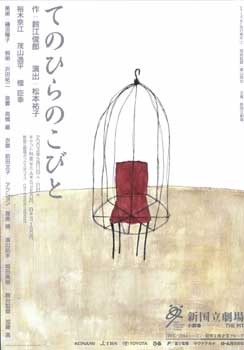 "Every one of us has a dwarf living deep within … We are trying not to crush it, crush it, no never."
Every line, refreshing. Each a gem in itself.
Suzue Toshiro, a young Kyoto-based playwright, and Matsumoto Yuko, an emerging young director of the Bungakuza troupe, work together for the first time in this play, guiding a fresh, new cast who artfully depict man and woman. The lines sound all too common at first, but are actually meticulously built one on top of another to create a carefully crafted staging, which strikes at the nostalgia deep within every one of us.
The female teacher is acted by Yuki Nae, an actress known to many theatre-goers and TV watchers. Playing her high school student is Shigeyama Ippei, an actor of kyogen comic dramas renowned for his eagerness to venture also into many other different kinds of dramatic performance. Dan Tomoyuki, a young and energetic actor from the Seinenza troupe, plays the role of the teacher working at the same high school as Yuki. Together, the three splendid artists bring the stage alive.
This play is delivered in the language of the youth today, and reflects both the brighter and darker sides of their existences.
Synopsis
It is spring, just as the new school term is beginning. Yuki, a high school English teacher, and Sanpei, one of her male students enter a traditional inn in a town known for its paper-making. The couple, teacher student, is in love. But with their relationship known to those around them, it is expected that they will make a public vow to break up on this very day.
The two, who had been concerned about what others might think of them, at last begin to focus on each other, finally finding the words they had been searching for.
That's when Yuki's coworker, Ishida, appears. He has found the inn that the couple is staying at from the slimmest of clues. He reproaches not so much the relationship between the two as the way each is living their life. "Each of us is alone in this world, yet each of us tries to make the most of life." Ishida's words eliminate the lovers' choices one after another, until......