The New National Theatre Tokyo The Pit Opera #12

THE PIT OPERA One Two Three
Il Tabarro
(Sung in Italian with Japanese Supertitles)
THE PIT
---
<STAFF>

| | |
| --- | --- |
| Conductor | : Kanda Keiichi |
| Production | : Aguni Jun |
| | |
| Music by | : Giacomo Pucchini |
| Libretto by | : Giuseppe Adami |
| Scenery | : Yokota Atsumi |
| Costume Designer | : Masuda Emi |
| Lighting Designer | : Oshima Hiroo |
| Stage Manager | : Onita Masahiko |
| Chorus | : New National Theatre Chorus |
| Orchestra | : New National Theatre The Pit Opera Ensemble |
---
<CAST>

February 2004

Thursday
5


Friday
6
Saturday
7
Sunday
8
Michele
Okubo Makoto
X
X
Shibayama Masanobu
X
X
Giorgetta
Kinoshita Mihoko
X
X
Takahashi Tomoko
X
X
Luigi
Mizuguchi Satoshi
X
X
Higuchi Tatsuya
X
X
Il Talpa
Mine Shigeki
X
X
Shimizu Hiroki
X
X
La Frugola
Kano Satomi
X
X
Mitsuhashi Chizuru
X
X
Il Tinca
Kamoshita Minoru
X
X
X
X
Il Venditore di Canzonette
Matsunaga Kunikazu
X
X
X
X
---
<PERFORMANCES>

| | | | | |
| --- | --- | --- | --- | --- |
| February 2004 | Thursday 5 | Friday 6 | Saturday 7 | Sunday 8 |
| 3:00pm | | | X | X |
| 7:00pm | X | X | | |
---
<ADVANCE TICKETS>
Available from Sunday 21 December, 2003 at 10:00am.
To order tickets, please call +81-3-5352-9999 (10:00am-6:00pm).
Internet ticket reservation available through the following Website.(Japanese only)
http://t.pia.co.jp/
---
<TICKET PRICES>
All Seats Reserved: ¥4,200
Seat Z(¥1,500) is sold only on the performance day at the Box Office and exclusive Ticket Pia Offices.
---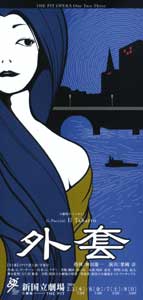 Il tabarro (The Cloak) is a one-act opera and along with Suor Angelica (Sister Angelica) and Gianni Schicchi, it comprises Il trittico (triptych). Puccini had the idea of basing his three works on Inferno (Hell), Purgatorio (Purgatory) and Paradiso (Paradise) from La Divina Commedia (The Divine Comedy) by Dante, with Il tabarro corresponding to Inferno. It was first performed at the Metropolitan Opera in New York in 1918. Puccini's music, which expresses unredeemed human conflicts centered on the love and hate between a husband and his wife, is filled with a sense of tension and is a highly realistic verismo opera.

Synopsis
The action takes place on board a barge on the river Seine, Paris. The barge master, Michele, suspects his wife Giorgetta of unfaithfulness and reminds her how she used to be enfolded in his cloak, and of their child, but her love for him has already dissipated. The young stevedore Luigi, Giorgetta's lover, mistakes Michele's lighting of his pipe for the signal that the coast is clear and steals into the barge. Having discovered his wife's lover, Michele strangles him in a fit of rage and covers the body with his cloak. When Giorgetta appears, he invites her under the cloak again, before revealing Luigi's body and flinging her down on top of it.