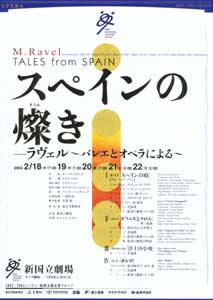 Colorful Staging of French Esprit and Spanish Passion
Presented to All of the Opera, Ballet and Orchestra Fans

Staging that transcends the boundaries of opera and ballet -- taking on the challenge of making this thrilling attempt are Nicolas Musin, who is active in various countries as a new-generation choreographer, Davide Pizzigoni, who has experience in architecture, painting, costume design, interior design and stage direction, and Marc Piollet, who has been appointed the next music director of the Wiener Volksoper. The cast of singers includes Graciella Araya, a native of Chile who sings in Western opera houses, John Ken Nuzzo, who is an upcoming name, and Heinz Zednik, a prominent figure in operatic circles. Together with these singers, the distinctive actress Mikari and the New National Theatre Ballet and Chorus will appear, delivering a brilliant performance as if jewelry boxes were being opened one after another.
Called the "magician of orchestration" and "alchemist of sounds," Ravel, who, together with Debussy, used elaborate and colorful orchestration to establish modern impressionist French music, had a special longing for and became especially attached to Spain under the influences of his Basque mother. However, the fact that many of his famous orchestral scores are dramatic and original and were written for performing arts is often forgotten. The forthcoming production will provide the audience with a golden opportunity to discover the essential charm of his music and the art form he aimed for.
L'Heure Espagnol (premiered in 1911), presented in French with Japanese subtitles
L'Heure Espagnol (The Spanish Hour) was the first opera written by Ravel. It is a comedy full of French esprit, which allows the audience to conjure up cheerful scenes in their minds simply by listening to the music. The setting is a clockmaker's shop in the ancient city of Toledo. Concepción, the young wife of Torquemada, receives the young would-be poet Gonzalve to enjoy a secret love affair in her husband's absence. But when the muleteer Ramiro comes to the shop, she rushes to hide her lover in a clock and makes Ramiro carry it up to the bedroom. Then the banker Don Inigo Gomez appears and, concealed in another clock, he is also carried up to the bedroom while the first clock is brought down. Concepción eventually admiringly orders the mighty Ramiro upstairs again…
Daphnis et Chloé (premiered in 1912)
Daphnis et Chloé (Daphnis and Chloe) was written at the commission of Ballet Russe, a legendary ballet company joined by Diaghilev, Fokine, Nijinsky and other distinguished dancers. The subject is taken from an ancient Greek epic, and in the plot, Daphnis, a young handsome shepherd, beats Dorcon, a cowherd, and gets wedded to Chloe, who is then captured by pirates. But she is returned to him by the intervention of Pan, and people dance in great delight to congratulate the lovers on their reunion. In the music, which depicts illusory scenes, a chorus adds to the mystery of the ballet, making it one of ballet's outstanding scores, filled with festive sentiments and a sense of dynamism. The forthcoming production will be staged with a new choreography for Daphnis et Chloé, Suite No. 2 arranged by Ravel.
Une Barque sur L'Océan (from Miroirs, a set of piano pieces, which was first performed in 1906)
Miroirs (Mirrors) is a set of piano pieces composed as descriptive music that reflects the chosen subjects. Une Barque sur L'Océan (A Boat on the Ocean) is the first piano piece of his own composing that Ravel wrote for an orchestra and uses new and original chords to depict a boat knocked about by waves and wind upon the open ocean. In the forthcoming production, combinations of performance without words and music will be attempted.
Bolèro (premiered in 1928)
Bolèro is a bold piece of music that repeats the same rhythm and melody and uses only orchestration and continuous crescendo to generate overwhelming excitement in the minds of listeners. One of the most popular scores by Ravel, Bolèro was originally composed at the commission of the famous ballerina Ida Rubinstein. Musin takes on the challenge of choreographing one of the most prominent ballet scores in the 20th century, which has been choreographed by Maurice Béjart among others.