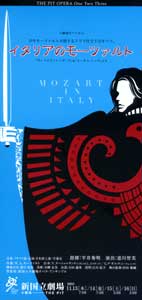 Opera in the Form of a Play Featuring a Young Mozart Embarking on a Journey
The Pit's Opera Series entitled "THE PIT OPERA One Two Three," which presents new productions by young stage directors, is starting up again with an experimental approach to grand operas.
Mozart continuously traveled over the course of his 35-year life. He left for Italy with his father in 1769 as a 13-year-old, and visited this southern country three times before 1773. Based on letters he wrote during this four-year period, Mozart in Italy, written for the series, creates an opera in the form of a play that incorporates Mozart's operas Mitridate, Rè di Pont (Mitridate, King of Pontus) and Lucio Silla, which premiered during this time. Of particular interest is the attempt to shed new light on the path the highly gifted composer followed.
Mitridate, Rè di Pont is an opera seria in three acts. The setting is Pontus, a kingdom located on the south shore of the Black Sea, around 70 B.C. While King Mitridate is away, his eldest son Farnace and half-brother Sifare both fall in love with Aspasia, who is betrothed to their father, and fight with each other over her. Farnace, who conspires with the Romans, reveals that his brother loves Aspasia. When Sifare joins his father in a new fight against the Romans, Farnace repents of his conduct and the king reconciles himself with his sons. The opera was first performed in Milan in 1770.
Lucio Silla is a dramma per musica in three acts. The setting is Rome around 80 B.C. Cecilio has been banished by the despotic consul Silla but has returned illegally to Rome and meets Giunia again. Silla is about to force Giunia to marry him when Cecilio rushes in with sword drawn. Cecilio is sentenced to death. However, Silla suddenly pardons everyone and retires from office, and people join together to sing his praises. The opera premiered in Milan in 1772.