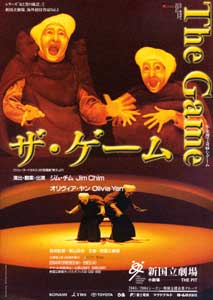 The Latest Drama from Hong Kong Sweeps Asia
Hong Kong is a city with an atmosphere of excitement, exemplified by its business activities and film industry. Theatrical circles in the city have been greatly influenced by traditional Chinese drama as well as Western drama, which was introduced when the island came under British control. In recent years, however, there have been aggressive moves, mainly among the younger generation, to go beyond such frameworks and escape the bounds of tradition, and today over 150 theatre companies are in operation. These companies have developed diverse contemporary theatrical styles by performing their original plays on the stage. The Theatre Ensemble, which will soon appear at The Pit to perform the third in a series of overseas works, is a theatre company representative of the first generation of this movement that began to attract attention in the early 1990s.
Established in Hong Kong in 1993 by the actor Jim Chim and the actress Olivia Yan, who both had pursued studies in traditional Chinese drama and European theatrical methods, the Theatre Ensemble is known for its unique style of bodily expressions and visual images, and has been the most active theatre company in the city. The company, with its strikingly innovative and pioneering activities and impeccable visual sensibilities in terms of stage sets, lighting, and imagery, has attracted the participation of young artists throughout Hong Kong. The Theatre Ensemble conveys a sense of the possibilities of the artistic scene in Hong Kong and for this reason simply can't be missed. Not only has the Theatre Ensemble remained at the forefront of Hong Kong's theatrical world even after the island was returned to China, but its activities now cover Asia as a whole, heralding the arrival of a new Asian theatrical movement.
The Game is an adaptation of Eugène Ionesco's absurdist play Les Chaises (The Chairs), and is characterized by stage direction that appeals to visual sensibilities, charming expressive techniques, and, above all, a theatrical quality that audiences find entertaining. When the play was first performed, it garnered nominations in seven categories from Hong Kong's most prestigious theatrical awards and was the winner in four categories, including the prize for best actor/actress. The performance of The Game, full of a sense of humor mixed with bitter cynicism, represents the finest sort of entertainment that only the Theatre Ensemble can provide. The play, which depicts absurd yet humorous conversations and a strange game of personal interaction, kicks off a series entitled "Scenes of Men and Women" that centers on the keyword of "dialogue." Don't miss out on this new encounter with Asian theatre.