Ashton's CINDERELLA
Ballet in 3 Acts
OPERA HOUSE
---
<STAFF>

| | |
| --- | --- |
| Artistic Director | : Maki Asami |
| Choreography | : Frederick Ashton |
| Music | : Sergei Prokofiev |
| Staged by | : Wendy Ellis Somes |
| Designs | : David Walker |
| Lighting | : Sawada Yuji |
| Scenery and costumes | : Production of The Royal Ballet at the Royal Opera House |
| | |
| Presented by | : New National Theatre, Tokyo |
---
<CAST>

December
2003
Friday
12
Saturday
13
Sunday
14
Cinderella
Shiga Misae
Takahashi Ari *
Shiga Misae
Prince
Ethan Stiefel
Kojima Naoya
Ethan Stiefel




January
2004
Friday
9
Saturday
10
Sunday
11
Monday
12
Cinderella
Sakai Hana
Saito Miho
Sakai Hana
Takahashi Ari *
Prince
Yamamoto Ryuji
Henmi Tomohiko
Yamamoto Ryuji
Kojima Naoya

*Miyauchi Mariko,who was originally to perform the role of Cinderella on Dec.13 and Jan.12 is unable to perform. Alternatively, Takahashi Ari is taking her place. Please refer to New National Theatre News.
---
<PERFORMANCES>

December 2003
-January 2004
Friday
12/12
Saturday
13
Sunday
14
Friday
1/9
Saturday
10
Sunday
11
Monday
12
2:00pm
X
X
X
5:00pm
X
X
6:30pm
X
X
---
<ADVANCE TICKETS>
Available from Saturday 25 October, 2003 at 10:00am.
To order tickets, please call +81-3-5352-9999 (10:00am-6:00pm)
---
<TICKET PRICES>

| | | | | |
| --- | --- | --- | --- | --- |
| Type | Seat S | Seat A | Seat B | Seat C |
| Price | ¥9,450 | ¥6,300 | ¥4,200 | ¥3,150 |

Seat Z(¥1,500) is sold only on the performance day at the Box Office and exclusive Ticket Pia Offices.

The performance on 13 December is "McDonald Special Night", supported by McDonald's Co. (Japan), Ltd.
All seats will be available in a half price (including tax)


| | | | | | | |
| --- | --- | --- | --- | --- | --- | --- |
| Seat S: ¥4,725 | | Seat A: ¥3,150 | | Seat B: ¥2,100 | | Seat C: ¥1,575 |

Tickets will be sold at the Box Office and Ticket Pia Offices only.
Any discount will not be offered due to the special prices of the night, but Seat Z (¥1,500) is sold as usual performances.
---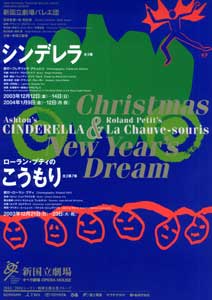 The holiday season from Christmas to the New Year is a special period when people enjoy spending their time in the most luxurious fashion. During this holiday, the New National Theatre, Tokyo will be presenting two exciting and cheerful ballets. The Ashton version of Cinderella and La Chauve-Souris (The Bat), choreographed by Roland Petit, are works that the NNTT highly recommends to those who wish to see a ballet for the first time. In Cinderella, a pumpkin is suddenly turned into a fine gilded coach with a wave of a magic wand and shabby clothes become a shining dress. In La Chauve-Souris, a wife transforms herself into a beautiful woman in order to regain the love of her husband, who goes out to play every night wearing the fur of a bat. A series of beautiful, breathtaking scenes depicting splendid transformation are the real charm of these performances. Onstage, a wonderful world unfolds that is filled with dreams, love and hope, and enhanced by a playful spirit. Come with your family or friends to the NNTT to enjoy to the fullest works chosen from a proud repertoire that can only be experienced at our theatre.