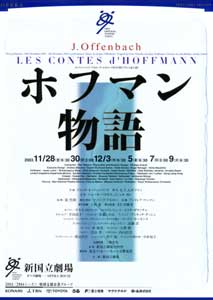 The Cherished Treasure of La Belle Époch, Which Brings the Fragrance of the Fin de Siècle to the Present Day
Enjoy a Moment of Fascination with the Fantastic Opera

The second new production for the 2003/2004 season, whose theme is the "fate of men," will be a fantastic opera in which the audience is invited to wander between dream and the reality together with Hoffmann, a man only capable of living in the world of dreams and devoid of reality.
Performing one operetta after another in Paris, the capital of the world, at the end of the 19th century, Jacques Offenbach dominated the minds of the people of the day. He was truly a product of his age. His operettas consisted of drama using many parodies and melodic music described by Rossini as the "Mozart of the Champs Élysées." Known for his operetta Orphée aux Enfers (Orpheus in the Underworld), he left the unfinished posthumous opera Les Contes d'Hoffmann (The Tales of Hoffmann), which premiered in 1881. Using three tales by E.T.A. Hoffmann, a writer of German romanticism, as its motif, it is an operatic gem in which the composer adapted the "duality of reality and dreams," the theme taken up by Hoffmann, to the stories of his opera in a perfect blend. The highly sensuous music is popularly known as "Barcarolle."
The opera features Hoffmann and three women he loved, as well as a Muse, the goddess of arts, who is a demonic entity that leads the love stories to destruction. Lacking an authorized version and being full of mystery, the opera has inspired many artists, allowing them to interpret it a variety of ways. Direction by former artist Philippe Arlaud vividly captures the change from fantasy to reality and vice versa. A cast of talented singers have been brought together, including Janez Lotric, who made his debut at the Paris Opéra as Hoffmann in a new production of the opera; Koda Hiroko, who won high praise for her Zerbinetta at the NNTT last winter; Sato Shinobu, a prima donna who represents Japan; and Annette Dasch and Ellina Garanca, both rising stars who are sweeping various cities in Europe. Another feature that opera fans must not miss is that Ban Tetsuro, who has been active at the Komische Oper Berlin and other distinguished European opera houses, will make a long-awaited orchestral debut at the NNTT.

<Synopsis>
The setting is a tavern next to the opera house. The poet Hoffmann begins telling stories of past love with three women: falling in love with Olympia, a mechanical doll; his shadow being taken by the courtesan Giulietta; and his consumptive lover Antonia being coaxed to sing one last time, draining her of her last breath. The tales over, Hoffman falls into despair over the emptiness of love, getting drunk. Whereupon the Muse appears before him.