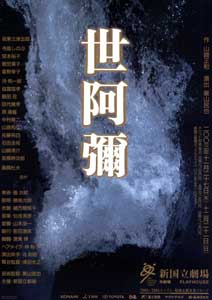 A play featuring grand dialogues, which, with "light" and "shadow" as its motif, portrays the latter half of the life of Kanze Motokiyo, popularly known as Zeami, who established Noh as a classic theatrical art, will take the stage of the Playhouse. The play starts with the prime of Zeami's life when he reached the top of his career as a Sarugaku player. Although he won the favor of Ashikaga Yoshimitsu, shogun of the time, and gained much glory, he was keenly aware that his existence as a performing artist was a shadow in the eyes of the general public, and he spent many an agonizing day searching for his true self. Zeami is a masterpiece by Yamazaki Masakazu that takes a sincere look at the internal conflicts of the Sarugaku player and vividly depicts the path he followed, with the relationship between the power of the time and the art of public entertainment as the axis of its plot development.

Kuriyama Tamiya's direction will revive the masterpiece premiered in 1963 from a contemporary viewpoint, and in the forthcoming production, the role of Zeami will be played by the kabuki actor Bando Mitsugoro; shogun Yoshimitsu's second son Yoshitsugu by Kazama Morio; Kuzuno-no-mae, who loves Zeami dearly, by Terajima Shinobu; and both Zeami's wife Tsubaki and an old shrine maid by Kurano Akiko. These actors and actresses will skillfully express the longing, hatred, pathetic love and other feelings of the principal characters, making the stage even more exciting. In addition, other various capable actors and actresses will be brought together to play the part of historical figures and nameless people and support the dramatic world of Zeami.

Intense and brilliant dialogues between human beings, the flower of yugen (subtle beauty) that comes into bloom on the stage with passion hidden inside and dances danced by crowds without concealing their basic instincts... Look forward to a play that enables the audience to enjoy the charm of drama at its best.