Afternoon of Fauns and his Nymphs
Contemporary Dance: Dance Planet No. 13
THE PIT
---
<STAFF>

| | |
| --- | --- |
| Artistic Director | : Maki Asami |
| Production Director | : Miki Yoko |
| Stage Manager | : Shibazaki Dai |
| Lighting | : Sugiura Hiroyuki |
| Sound Design | : Kawada Yasuo |
| Sponsored by | : Kirin Brewery Co., Ltd. |
| Presented by | : New National Theatre, Tokyo |
---
Romeo and Juliet I&II
Lee Yun Kyeung and
Ryu Soec Hun


Chaconne
Hirayama Motoko and
Noumi Kenshi

Giselle
Karube Hiromi and
Shimaji Yasutake
Music Compilation: Asano Jun

MAGUMA
Ran Konomi and Shimizu Fumihito
guitar : Someya Hiroshi

Espresso
Uchida Kaoru and Koga Yutaka
Music : Ono Satoru

YOROBOSHI
Kagaya Kaori and Moriyama Kaiji
Utai : Tsumura Reijiro
Music : Taneda Go

---
<PERFORMANCES>

| | | | | |
| --- | --- | --- | --- | --- |
| September 2003 | Friday 12 | Saturday 13 | Sunday 14 | Monday 15 |
| 2:00pm | | | X | X |
| 6:00pm | | X | | |
| 7:00pm | X | | | |

The theatre opens 45 minutes before the curtain rises.
---
<ADVANCE TICKETS>
Available from Wednesday 23 July, 2003 at 10:00am.
To order tickets, please call +81-3-5352-9999 (10:00am-6:00pm).
Internet ticket reservation available through the following Websites.(Japanese only)
http://t.pia.co.jp/
http://eee.eplus.co.jp/
---
<TICKET PRICES>

| | | |
| --- | --- | --- |
| Type | Seat A | Seat B |
| Price | ¥5,250 | ¥3,150 |
---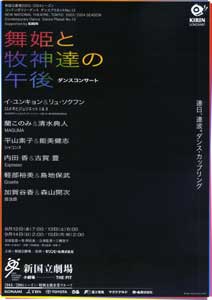 The new season of the NNTT's Contemporary Dance series begins with dance concerts by pairs of male and female dancers. Performers include dancers in their prime, those who are attracting public attention as writers as well, those who have won awards at contests in Japan and abroad and those who continue to be active without adhering to one particular genre. Enjoy the interesting combination of the paired dancers, as well as rhythms engendered by their bodies and a broad range of their dazzling dance techniques.


Romeo and Juliet I&II
This work features an internationally acclaimed pair of Korean dancers, who received a gold medal for the work and are attracting public attention. If Romeo had married Juliet…
MAGUMA
A contrast of strong passion with serenity in which flamenco meets contemporary dance. Throw the MAGUMA within the bottom of the soul into space.
Let dance melt and become music. Let music melt and become the universe.

Chaconne
Movements full of an aesthetic sense emerge from the sharp body.
The relationship between a man and a woman emerges from the flowing movements. And the harmony…

Espresso
Tactics of men and women develop in dazzling dance.
I do not like espresso. Because it has a dark color and a strong and bitter taste.
I do not like espresso. A condensed murmur extracted from the heart.
But I do get addicted to espresso.

Giselle
Based on the ballet Giselle, this work portrays eternal love and life with a sense of air. An arranged chance? Nothing would have changed without the encounter. When one encounter is about to develop into love, it also creates deep anger and sorrow.
YOROBOSHI
Based on a Noh play, a mysterious contemporary dance is expressed by a flexible body.
Blind I became
"Too many to hold with both hands
Spilling ume flowers"
As the spring sun sets beyond the beach of Naniwa, the splendid, beautiful scene is secretly reborn as flowers in the blind's imagination.