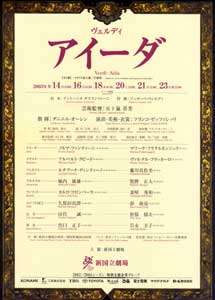 A Triumphal Return---Zeffirelli's Spectacle Opera Coming Soon to NNTT.
<![if !supportEmptyParas]> <![endif]>
In Aida, director Franco Zeffirelli offers impeccable visualization in his stage and costume design, right down to the actors' accessories, through an interpretation based on historical research. The final scene, with its sublime love duet, is immensely moving. The staging of the splendid and dazzling Triumphal Scene in the 1998 performance of the opera, which commemorated the opening of the New National Theatre in Tokyo, kindled the newborn opera house. As Zeffirelli himself later expressed, "This is the only production in my lifetime that has achieved such spectacular effects as this." The legendary staging of Aida has left its mark on Japanese operatic history. The forthcoming repeat production will be led by the powerful maestro Daniel Oren. The title role will be sung by the formidable soprano Norma Fantini and the rising singer Marina Fratarcangeli, and a cast of other talented singers will also be assembled. The audience will certainly be able to enjoy the charm of this opera to the fullest.
<![if !supportEmptyParas]> <![endif]>
<
Synopsis
>
The setting is ancient Egypt. Aida, princess of Ethiopia who was defeated in the war, is a captive and slave to the Egyptian princess Amneris, who does not know that Aida is the daughter of the Ethiopian king. Aida and Radamès, captain of the Egyptian guard, secretly love each other, but Amneris also loves Radamès. One day, Radamès returns from a victorious campaign bringing with him many slaves, including Aida's father Amonasro. The Ethiopian king Amonasro sees his daughter again and convinces her to find out from Radamès which route the Egyptian forces plan to take in the next war with Ethiopia. At night, Aida, in a rendezvous with Radamès on the bank of the Nile, tries to persuade him to flee with her and extracts from him information about the operations of the Egyptian forces. Stunned to know of the enemy's plot, Radamès surrenders himself and is placed under arrest. Amneris offers to plead for him if he marries her, but ultimately, he refuses to explain and is sentenced to death. As the walls of his burial chamber are sealed up, Radamès discovers that Aida has concealed herself in the darkness. The lovers die quietly but at the same time attain eternal love.