The New National Theatre Tokyo The Pit Opera #10

G. Gazzaniga: Don Giovanni
Opera in 1 Act (Sung in Italian with Japanese Supertitles)
THE PIT
---
<STAFF>

| | |
| --- | --- |
| Conductor | : Matsuoka Hakaru |
| Production | : Imai Nobuaki |
| | |
| Artistic Director | : Igarashi Kiyoshi |
| Libretto by | : Giovanni Bertati |
| Music by | : Giuseppe Gazzaniga |
| Set Designer | : Suzuki Toshiro |
| Costume Designer | : Onodera Sae |
| Lighting Designer | : Furukawa Yasushi |
| Stage Manager | : Murata Kensuke |
| Chorus | : New National Theatre Chorus |
| Orchestra | : New National Theatre The Pit Opera Ensemble |
---
<CAST>

January 2003

Thursday
15

Friday
16
Saturday
17
Sunday
18
Don Giovanni
Ono Mitsuhiko
X
X
Uehara Masatoshi
X
X
Donna Elvira
Matsubara Yuna
X
X
Inoue Yukari
X
X
Donna Anna & Ximena
Seki Mariko
X
X
Yasui Yoko
X
X
Maturina
Hariu Michiko
X
X
Kunimitsu Tomoko
X
X
Pasquariello
Kuroki Jun
X
X
Shimura Fumihiko
X
X
Il Duca Ottavio
Hayama Kosei
X
X
Tsukada Hiroyuki
X
X
Il Commendatore
Kang-Liang Peng
X
X
Maiya Takehiko
X
X
Biagio
Ota Naoki
X
X
Sakai Nobuhiro
X
X
Lanterna
Tomokiyo Takashi
X
X
Asukai Ryo
X
X
---
<PERFORMANCES>

| | | | | |
| --- | --- | --- | --- | --- |
| May 2003 | Thursday 15 | Friday 16 | Saturday 17 | Sunday 18 |
| 3:00pm | | | X | X |
| 7:00pm | X | X | | |
---
<ADVANCE TICKETS>
Available from Sunday 23 March, 2003 at 10:00am.
To order tickets, please call +81-3-5352-9999 (10:00am-6:00pm).
Internet ticket reservation available through the following Website.(Japanese only)
http://t.pia.co.jp/
---
<TICKET PRICES>
All Seats Reserved: ¥4,200
Seat Z(¥1,500) is sold only on the performance day at the Box Office and exclusive Ticket Pia Offices.
---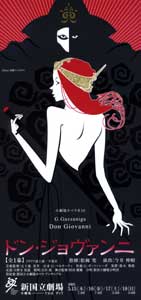 Explanatory Notes
The name Don Giovanni calls to mind the immortal masterpiece by Mozart premiered in Prague in October 1787, but there is another Don Giovanni, which was first performed in February of the same year in Venice. The libretto was written by Giovanni Bertati, who was also a librettist for Domenico Cimarosa's Il Matrimonio Segreto as well as other operas, and it includes characters who do not appear in Mozart's work. It is interesting to see how Guiseppe Gazzaniga, a popular composer of the time, depicted the love life of the young nobleman much given to seduction.

Synopsis
Having failed to seduce Donna Anna, Don Giovanni kills her father, the Commendatore, who had rushed to the site after hearing her shouts for help. Even after this incident, he never alters his conduct and continues to seduce Donna Ximena, Maturina, and other women. When he is having dinner at his own home, however, a stone statue of the Commendatore appears and throws him into the flames of hell.